Britain's great estates pledge trees to help rebuild Notre Dame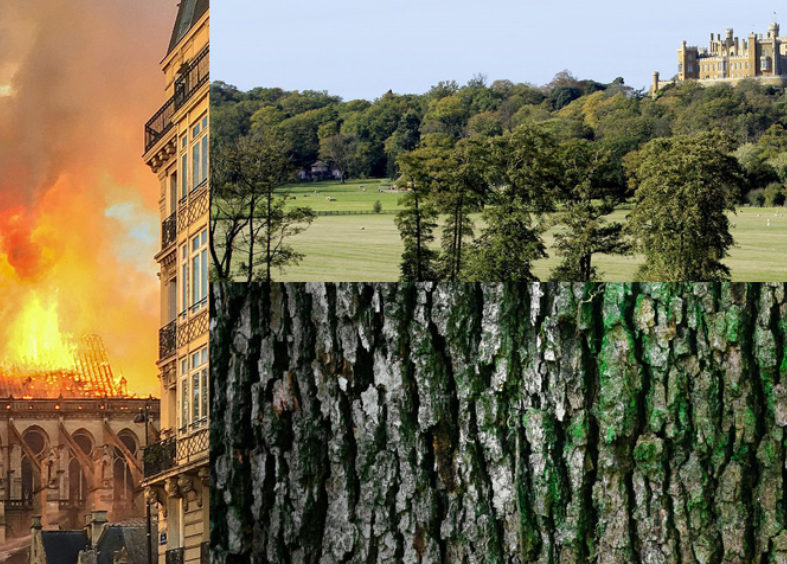 British oaks from some of the UK's most famous estates could contribute towards the rebuilding of Notre Dame cathedral, following an offer from members of Historic Houses, the association for independently owned historic houses and gardens.
So far more than one hundred donor estates, including Belvoir Castle, Hutton-in-the-Forest, Scone Palace, Castle Howard, Holkham Hall, Powderham Castle, and Firle Place (named after the Anglo-Saxon word for 'oak woodland'), have volunteered valuable trees, planted for timber centuries ago, as a gift from the UK to France for the restoration of the iconic landmark's roof, destroyed by fire earlier this week.
It's not the first time Britain's great houses have rallied round to help with a major heritage restoration project. After the devastating York Minster fire in 1984 more than forty Historic Houses member places pledged eighty oak trees for the reconstruction efforts, joining donations from the Queen and the Prince of Wales.
Given that the construction of the original roof in the twelfth century is estimated to have required 1,300 mature oaks, the donors are well aware that their contribution could only provide a fraction of what's needed, but they hope the gesture will inspire others.
James Birch, owner of Doddington Hall, one of the estates that has pledged timber, and President of Historic Houses, said, 'The fire at Notre Dame is a terrible tragedy. It is also a reminder of how our great buildings provide a cultural back drop to everyday life that is often only recognised when they are threatened. Some of our members have first-hand experience of the damage and destruction of catastrophic fires. It's fitting that we would offer to help restore such an important part of the world's heritage.'
The trees, from sustainable forestry and already destined for use as commercial timber, are estimated to have a combined market value of well over £100,000. But the donors are keen to emphasise that the timbers used in buildings like Notre Dame are about something that money alone can't buy.
'Anyone who lives in an old building knows there's something special about the way it was built and the materials used,' said the Duke of Rutland, who first suggested the idea to his fellow members.
'The trees in the original roof at Notre Dame probably started growing over a thousand years ago. We're able to donate replacements because my great-great-grandfather had the foresight to plant trees that would only be valuable long after he died. And in turn we'll replant every tree we fell – someone will need them for something in another few hundred years. It's a reminder of how important it is to both look after and renew our heritage resources. In our business you have to plan in centuries, not years.'
For further information and images contact James Probert, Director of Marketing & Development, on james.probert@historichouses.org or 020 7259 5688.
Houses participating (183 listed)
Adlington Hall
Allendale Estates
Althorp Estate
Apethorpe Palace
Arley Hall
Aswarby Park
Ballywalter Park
Barkby Estate
Baronscourt Estate
Barrow Court Estate
Belvoir Castle
Benington Lordship
Berkeley Castle
Blair Estate
Boconnoc
Bodrhyddan Hall
Bolton Estate
Brampton Bryan Castle
Brithdir Hall
Brocklesby Park
Bromesberrow Place
Brooke Hall
Browsholme Hall
Bryngwyn Hall
Burton Agnes Hall
Cairness House
Calmsden Estate
Capesthorne Hall
Capheaton Hall
Cardross Estate
Castle Hill
Castle Howard
Cawdor Castle
Cefn Park
Château de Missery
Chevening House
Chillington Hall
Chippenham Park
Cholmondeley Estate
Claydon Estate
Colebrooke Park
Constable Burton Hall
Cotesbach Hall
Cottesbroke Hall
Cowdray Estate
Craster Tower
Crom Castle
Culver House
Dalton Estate
Danby Hall
Deene Park
Dillington Estate
Ditchingham Hall
Doddershall Park
Doddington Hall
Dorfold Hall
Downham Hall
Drayton House
Dunvegan Castle
Eastnor Castle
Elton Hall
Everingham Hall
Fairlight Hall
Fallodon Hall
Faulkbourne Hall
Firle Place
Flete Estate
Flintham Hall
Forde Abbey
Forthampton Court
Gabriel's Manor
Gaddesden Estate
Gayton Estate
Glynde Place
Golden Grove
Gorhambury House
Gosford House
Great Oakley Hall
Gregynog Hall
Grey Abbey
Grimsthorpe and Drummond Castle Trust
Grove House
Gyrn and Cerrigllwydion Estate
Haddon Hall
Haines Hill
Hall, Bishop's Tawton
Harrowby
Hatton Grange
Hedingham Castle
Henbury Hall
Hexton Mannor
Hill Court Estate
Hodsock Priory
Holdenby House
Hole Park
Holywell Estate
Hopetoun House
Houghton Hall
Hovingham Hall
Hutton-in-the-Forest
Ingatestone Hall
Inverary Castle
Inwood Estate
Kelmarsh Hall
Kenmay House
Kingston Russell House
Kinnaird Castle
Knebworth House
Knepp Estate
Knowsley Hall
Langley Priory
Larchfield Estate
Leighton Park
Levens Hall
Lexham Hall
Llanover House
Longleat House
Loseley Park
Lowick Hall
Madresfield Court
Manor Farm Corsley
Mapperton
Marklye
Megginch Castle
Monreith House
Moray Estates
Muncaster Castle
Munden House
Murthly and Strathbaarn Estates
Newby Hall
Newick and Sutton Hall Estates
Normanton Hall
Oakly Park
Old Fonthill Abbey
Okeover Estate
Owlpen Manor
Painshill Park
Peasmarsh Estate
Pentillie Castle
Pitchford Hall
Plas Cadnant Estate
Plasglasgwm
Pontypool Park
Powderham Castle
Purse Caundle Manor
Radburne Hall
Raynham Hall
Renishaw Hall
Ripley Castle
Rockingham Castle
Rode Hall
Sandon Hall
Sausmarez Manor
Scampston Hall
Scawby Hall
Scone Palace
Somerley House
Spetchley Park Gardens
Stansted Park
Stradey Estate
Symington House
Terling Place
The Grange Estate
The Holt Estate
Thoresby Park
Thorpe Malsor Estate
Tissington Hall
Treberfydd House
Tregrehan
Treowen
Ugbrooke Estate
Walsingham Abbey
Warnell Estate
Welbeck Abbey
The Wellington Estate
West Dean
Whitfield House
Willey Park
Wintershill Hall
Witherslack Estate
Woburn Abbey
Wolterton Hall
Womersley Park
Wootton Manor