Wenlock Abbey
Grade I medieval building, once the infirmary and prior's lodging of Wenlock Priory, now a private dwelling
Barrow Street, Much Wenlock, Shropshire TF13 6EN
Get Directions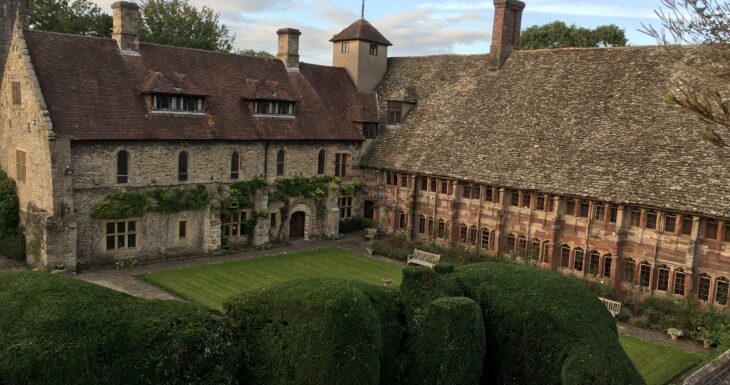 Wenlock Abbey, listed Grade I, was originally part of the Cluniac Wenlock Priory (now English Heritage). Behind its glorious Renaissance façade, the prior's private apartments are barely altered. In 1983 the house was bought by artist Louis de Wet who restored the ancient fabric whilst re-interpreting some of the interiors to create 'a new link in an old chain'.
Wenlock Abbey is a private residence, the fabric of which is an integral part of the priory established in the eleventh century as a daughter house of the great French abbey of Cluny. (The adjacent ruins are in the care of English Heritage). It comprises an L-shape of two ranges, one the monks' Infirmary built in the twelfth century the other the Prior's Lodging of two hundred and fifty years later.
The owner welcomes guests at the gate and leads them towards the house. Here guests are introduced to the local historian, who explains something of the glorious but mysterious Renaissance façade, unique among houses of the period.
The group is then led into the house and up the spiral stair that links the two ranges. This gives onto a fenestrated gallery from where the Prior's private suite is accessed. From the magnificent private chamber, adorned by treasures from the artist Louis de Wet's collection, guests then enter the Great Hall with its cusped casements and spectacular timber-framed roof of 1425. A central feature is the 15th-century stone calvary, installed by Louis de Wet as part of a range of purchases made to emphasise the link between Wenlock Abbey and the Cluniac Order.
From here we return to the spiral stair and go down to enter the twelfth-century wing, a space that has been considerably altered through the centuries. Guests will now see a 15-minute film outlining the restoration project undertaken by Mr and Mrs de Wet and including interviews with specialist craftsmen chosen by Louis de Wet to enhance his own artistic work.
We then move to the Chapel with its intricate carved oak screen, modern work in the spirit of the Cluniac order. Its purpose was partly to support the weight of the library above, designed by the artist in Romanesque style and housing his collection of books assembled over five decades. Guests are finally offered a glimpse of the artist's studio before tea is served in the Venetian room on the ground floor.
This tour is a very personal one, in which we hope to make visitors feel at home.
Tickets £25 including tea and home-made cake.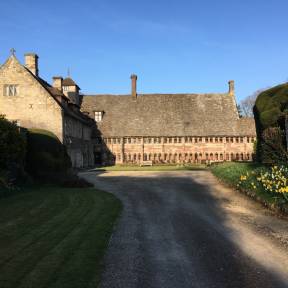 Wenlock Abbey, Shropshire
Wenlock Abbey