Accessibility
Accessible parking
Guide dogs welcome
Accessible toilets
Step back in time to immerse yourself in the age of the Tudors and Stuarts by visiting The Old Hall, one of the finest small Tudor manor houses in Norfolk. This magnificent Grade I Tudor home is set in extensive grounds with a most picturesque medieval moat.
Believed to be built in 1514 by Sir Edward Chamberlayne, whose father was executed in 1491 by Henry VII for treason, it was remodelled in 1614 when the breathtakingly beautiful plaster ceiling and frieze, dated 1614, in the Great Chamber was added. The house still retains a wide range of magnificent interior original Tudor and 17th-century architectural features such as fireplaces, plasterwork ceilings, fine 16th-century tight ribbon-moulded beams in the hall, early 17th-century winding stair with oak treads and risers around a closed timber framed well, an original 17th-century dog gate, a 17th-century butt-purlin and collar roof with remains of an earlier clasped purlin, wall murals and a chapel. The property is furnished with original 16th- and 17th-century furniture throughout. The exterior has a wealth of Tudor and 17th-century features such as diaper-patterned brickwork, a 16th-century porch and front door with linenfold panelling and carved spandrels to the frame, several early 17th-century window openings with painted moulded brick pediments on pulvinated friezes and a number of early 17th century ovolo-moulded mullioned and transomed windows.
The garden's highlights are a medieval moat, a re-created Tudor kitchen garden, a re-created medieval herb garden and a 17th-century inspired arboretum after John Evelyn's 'Sylva' (Discourse of Forest Trees).
A small selection of home-made jams made from home-grown produce, to original 16th- and 17th-century recipes are available for purchase.
The September tour includes a special tour and talk in the orchard with over 50 varieties of fruit trees, all known in England before 1700. Waterproof shoes/boots recommended.
The November tour has a Tudor Christmas theme with real fires in Tudor fireplaces. Costumed owner-guided tour. Every participant receives a small, typical for the period, Tudor present.
Accessibility
Accessible parking
Guide dogs welcome
Accessible toilets
From the first half of the 20th century, one of the Lincoln family lived here. The Lincoln family came from nearby Hingham and are believed to be related to the United States President Abraham Lincoln. The Great Chamber was used as a manorial court room. Old Hall now houses an extensive collection of medieval, Tudor & 17th century furniture.
Brigitte Webster, the house owner, is a very keen culinary historian and in that capacity grows most of the food on site. She specialises in historically early vegetables and fruit varieties and constantly expands the garden with further Tudor garden features and plants.
Visitor reviews of tours at The Old Hall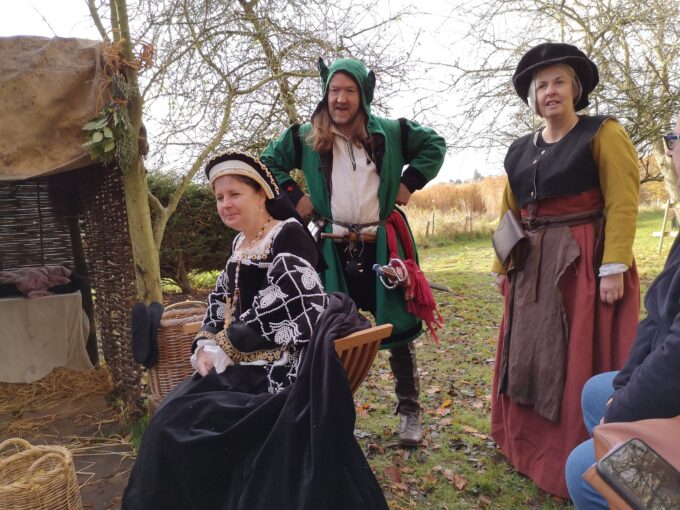 "The Tudor Christmas experience at The Old Hall Barnham Broom on Saturday 27th November was exceptional. The owners evidently have an ability to imagine and create a varied programme of activities engaging all the senses of the visitors  whilst also ensuring we had fun and paying close attention to detail (including carefully presented gifts of 'marmalade' for each visitor and even a temporary duck board for walking to the orchard!).
We were welcomed by the owners in their splendid replica Tudor costumes and many of their volunteers were also in appropriate costumes  so  you felt that you were experiencing elements of a Tudor Christmas right from the start. There was a lot of information provided in 'digestible' form as we toured the house and later we were given coffee (with more  Christmas information) whilst we tasted 12th Night Cake and hippocras.  We were  entertained with beautiful solo singing of Tudor songs accompanied by a lute, before an amusing finale led by a 'fool' and his partner of  wassailing with a 'lambswool' drink and bread in the orchard." Rosemary Coles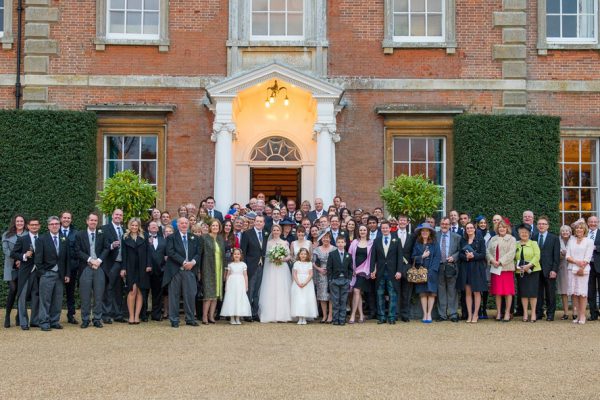 Not free for members
Wymondham, Norfolk, NR18 0RT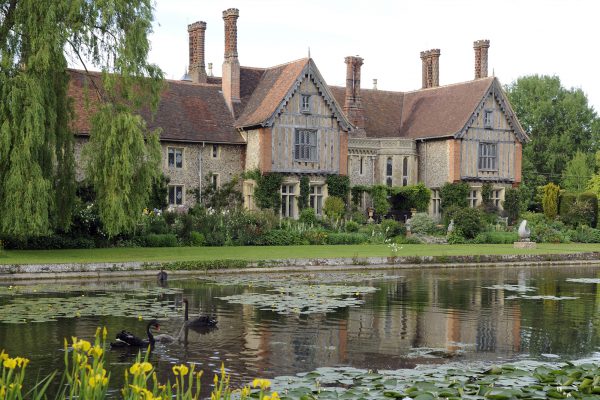 Free for members
Elsing, Dereham, Norfolk, NR20 3DX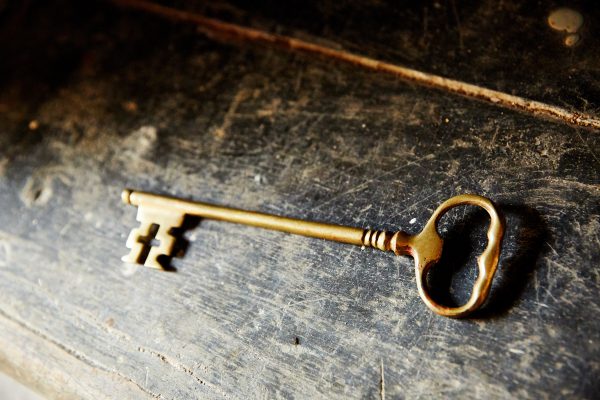 Not free for members