South Elmham Hall
Once a bishop's palace, the moated house has the oldest known wall paintings in Suffolk.
Hall Lane, St Cross South Elmham, Harleston, Suffolk, IP20 0PY
Get Directions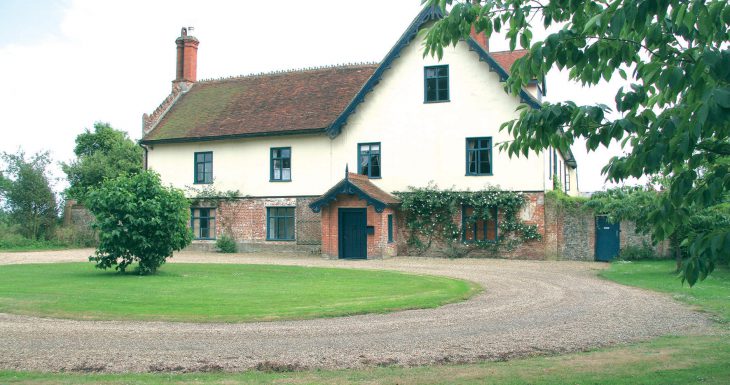 The sixteenth-century exterior of the Grade I-listed house hides a medieval hall, and traces of the bishop's private chambers. Many features survive including probably the earliest domestic wall paintings in Suffolk. The Hall is at the centre of a traditional mixed farm, which has won awards for conservation and wildlife management.
South Elmham was the location of the episcopal estate, the Bishop's See (Court) of Elmham, dating back to the seventh century. Nothing exists from those earliest days, except a scattering of pottery on the settlement sites. The Vikings allegedly made sure of that with their plundering and burning of the East Anglian Minsters.
But the connection was strong and remained intact. In 1100, the then Norman Bishop of East Anglia, Herbert de Losinga, founded Norwich Cathedral and subsequently gifted South Elmham to the Priory of Norwich. And this is where the story of South Elmham's Palace really begins.
The first Bishop of Norwich appears to have been a fan of the South Elmham estate – he stocked its deer park well. For the wealthy medieval bishops, the principal attraction of South Elmham was its good hunting.
South Elmham Hall became a 'des-res' at the heart of a deer park. A Great Hall in which to hold court was built with chambers and a private chapel for the Bishop. And as the palace took shape in the thirteenth century with fine archways and stonework, this domestic building was adorned with lavish wall-paintings.
Open for private tours only. See the tours tab for further information.
This house is not part of the Free for Members scheme, but is one of many houses on our website that we support to promote their tours, weddings, filming and other commercial offerings. To see all the places you can visit as a Historic Houses member, please visit our 'Free for Members' listings page here. Or to find out more about how the membership scheme works and how it supports our work to protect independent heritage, visit our page here.
Become a Historic Houses member
Explore the nation's heritage from just £59 per year.
Hundreds of the most beautiful historic houses, castles, and gardens across Britain offer our members free entry.
Receive a quarterly magazine exploring the architecture, collections, and family histories of our grandest and oldest homes, and get an insight into what it takes to keep them standing today.
Enjoy monthly online lectures about the houses and their extraordinary history, presented by experts including house owners, curators and guest lecturers.