Rugbourne Farm
A restoration drama with a famous tenant.
High Littleton, Bristol, Somerset, BS39 6JS
Get Directions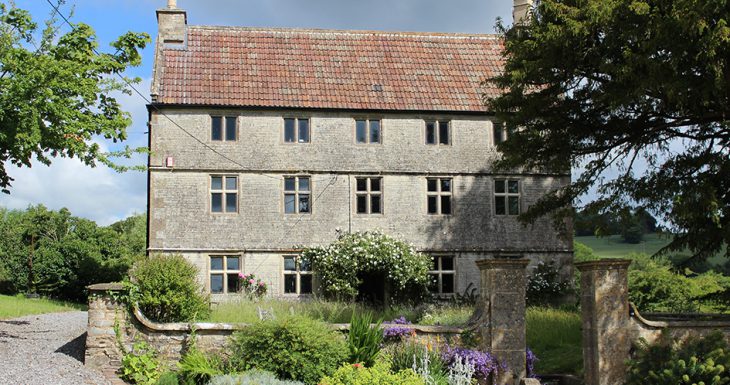 A small Renaissance (C17) manor house, farmed until 2002 when the current owners bought it as their home, saving it from imminent collapse.
Architect Andy Paterson, with the help of his wife Zanna (lecturer specialising in Renaissance drama), has lovingly repaired it, and work is still being completed on the second floor.
Andy and Zanna are only the third owner-occupiers, which to some extent explains why Rugbourne is substantially unchanged since it was first built, and retains its architectural and tactile integrity.
It is noted for its most famous tenant, William Smith, who began the first ever stratological map of Britain in this house, an excellent print of which is on view. He called Rugbourne 'the birthplace of English geology'.
Tours that are scheduled will be listed below. If none are scheduled yet, please check back later, or find other tours you might enjoy on our tours listing page here.
Our friends were blown away by the beauty of the house and the hospitality of the owners, they were welcoming, warm and so very interesting and knowledgeable ... a fantastic day.
Take a tour of the whole house, including the cellar and attic. After the tour, visitors are welcome to spend time outside, including picnicking in the farm garden, orchard, wood and pasture (13 acres).
TOUR DURATION
2 hours
TOUR PRICE
£14.00 per person
REFRESHMENTS
Tea and cake
ACCESS NOTES
Wheelchair access to ground floor only. Step up on front path but we can provide a ramp if requested.
RESTRICTIONS
No stilettos because of uneven floors; well-behaved children and dogs allowed. A friendly dog lives at the house.
VISITORS' VIEWS
"your wonderful house … a dwelling in which you can enjoy living yet retains most of the features of a manor house built in the 17th century. It was an honour and a joy to see where [William Smith] did much of his work … the chance to explore a bit of living history." Visitors from the Somersetshire Coal Canal Society 2016