Quy Hall
Grade II* listed English country house, sitting in attractive gardens and with open views of parkland to the south over a historic ha-ha.
Stow cum Quy, Cambridge, CB25 9AJ
Get Directions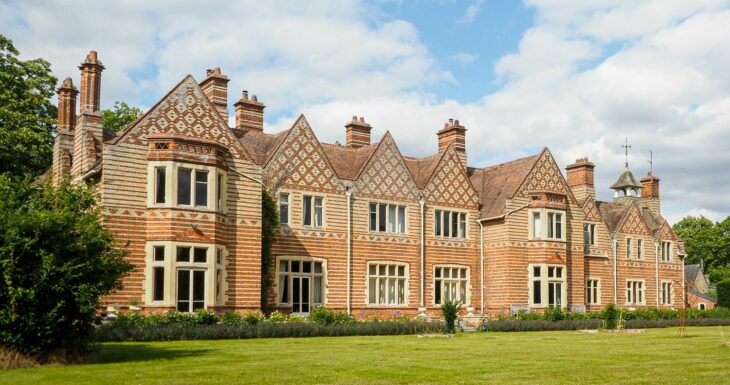 Quy Hall (pronounced 'kwai') was bought in 1855 by Cambridge-based solicitor Clement Francis who originally occupied it as a summer residence whilst continuing his successful law practice in town (which would go on to become Mills & Reeve).
In the 1860s he employed Victorian architect William White who almost completely demolished and rebuilt the house, albeit on substantially the same floorplan. The outside of the house is striking with unconventional striped brickwork and Dutch gabling to the rear. Inside, the three main reception rooms are highly decorated with unusual mural paintings to the walls and ceilings, originally thought to be by Thomas Gambier Parry, but now known to be to White's own design and executed by Henry Davies who also painted Ely Cathedral's impressive vaults. The house has changed little since then architecturally, passing down through the family to the current occupiers, although much of the original furniture was sold in the 2000s. It remains a private family home so this is a rare chance to peek behind the curtain and see what life is really like in an English country house.
The gardens include a walled kitchen garden with orchard trees, a terrace with a long rose border and newly planted long borders and pergola features. The ha-ha permits extensive views across the parkland towards the village.
The tour will be led by the owner, Ellen Francis, and will include the main downstairs reception rooms (Hall, Drawing Room, Study and Dining Room) with their unique painted walls and ceilings. Ellen is a lively guide who will share the inside stories behind some of the architectural features and family portraits you will see and who will be happy to answer your questions about the house and the estate.
Depending on the season and the weather, the visit may include a guided tour of the garden, but visitors will be welcome to explore the gardens by themselves if they choose anyway.
In February, there is an impressive display of snowdrops; spring sees several borders of daffodils come to life; in summer the long rose border on the terrace is a pretty sight. December tours feature family-style Christmas decorations.
Tickets £25 including a house tour with tea/coffee and cake.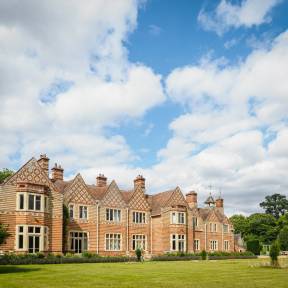 Quy Hall snowdrop tour, Cambridgeshire
Quy Hall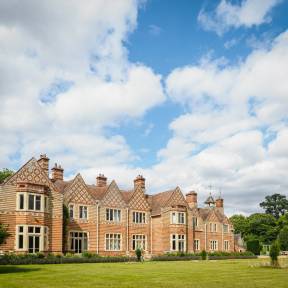 Quy Hall daffodil tour, Cambridgeshire
Quy Hall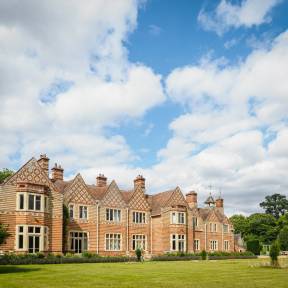 Quy Hall roses tour, Cambridgeshire
Quy Hall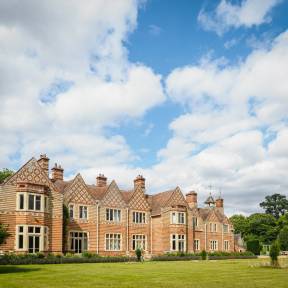 Quy Hall, Cambridgeshire
Quy Hall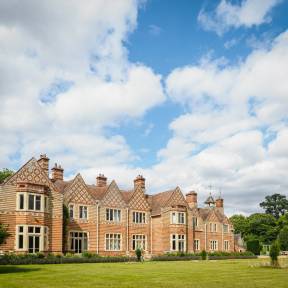 Quy Hall, Cambridgeshire
Quy Hall
Great fun with a delightfully personal tour from the owner. An interesting and rather different home, much loved by the owners.
We had a very interesting and delightful visit to Quy Hall on Thursday, every one of us was very impressed. Ellen Francis gave a very good tour making everyone very welcome and catering to our needs. We would definitely recommend this venue.
We found our hostess engaging and interesting and the house felt 'friendly'. We are particularly interested in the building itself and those three painted rooms. We have never before seen ceilings of that kind. That is the big 'take-away for us from our visit. I don't expect to see finer ceilings than those.