Nether Winchendon House
Early castellated house with decorative chimneys and a picturesque first floor verandah.
Aylesbury, Buckinghamshire, HP18 0DY
Get Directions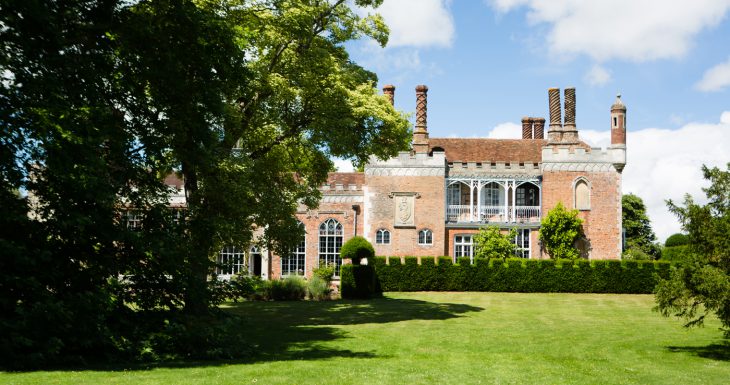 Nether Winchendon House dates from the middle of the 12th century. Walter Giffard, grandson of the Walter Giffard of the Domesday Book entry, gave the Manor of Nether Winchendon in 1162, the year in which Thomas a Becket became Archbishop of Canterbury, as part of his Endowment of Notley Abbey which he was founding nearby for Augustinian canons from Arras,. The property remained vested in the Abbot of Notley until the Dissolution of the Monasteries in the 1530's.
The Great Hall is believed to date from the reign of King John (1199-1216). Its beams were later removed and re-used in the 18th Century Manor Farm barn. The Great Hall now has a vaulted ceiling designed by Sir Scrope Bernard and is the family's drawing room.
What is now the dining room was added by Sir John Daunce in about 1530 as his "Parlour". Sir John proved to be the last tenant of the Abbot of Notley. Sir John was a notable and powerful man of his time. He was one of the King's Council and Surveyor General of the King's estates as well as being a commissioner for the war against Scotland which culminated in the death of King James IV of Scotland at the Battle of Flodden in 1517.  His son, William, married Elizabeth, daughter of Sir Thomas More, Lord Chancellor of England and author of "Utopia", who was executed in 1535 [ "A Man for All Seasons"] The dining room room has fine oak linenfold panelling and a carved oak ceiling and frieze, commissioned by Sir John and displaying his portrait and rebus (initials). Subsequently, the panelling was painted white to celebrate the Restoration of King Charles II to the throne in 1660.
The Manor of Nether Winchendon passed to the Crown on the Dissolution of the Monasteries and then by grant of King Edward VI to the Russell family, then of Chenies and later of Woburn. There is a fine Flemish tapestry which depicts King Henry VIII with Sir John Russell who had been installed as a Knight of the Garter in 1539.   Sir John Russell, later Earl of Bedford, was Lord Privy Seal in almost direct succession to Thomas Cromwell.