Island Hall
Brick-built Georgian house picturesquely situated on the River Great Ouse.
Godmanchester, Cambridgeshire, PE29 2BA
Get Directions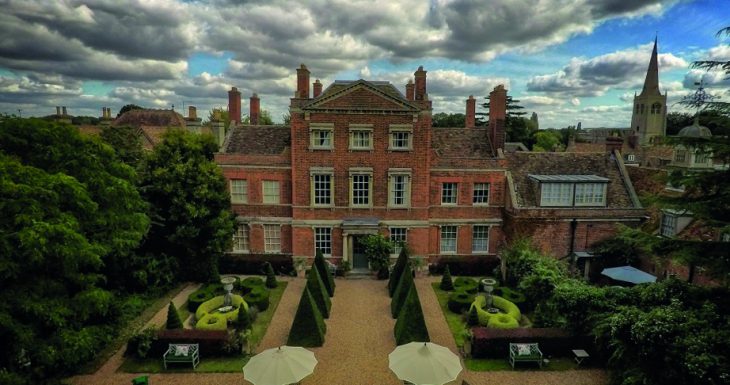 Island Hall is an elegant riverside mansion built in the late 1740s. It is built of red brick with stone dressings to windows and doors, to a neat, classical design, the central three-storey portion standing under a classical triangular pediment.
The frontage to the road is exactly matched by the garden front. Both side wings are two storeys. The central porches on both sides have Tuscan columns and stone surrounds, and the windows on the first floor have distinctive, Baroque stone surrounds.
The interior of Island Hall has some very fine elements, a spacious stone-flagged entrance hall, with a screen of Doric columns, and an exceptionally handsome oak staircase with a carved acanthus leaf scroll detail and turned and twisted balusters. The drawing room and dining room also have exceptionally handsome carved wood panelling original to the building of the house.
It is, in feel, very much in the spirit of an early Georgian country house, but is in fact built within the small town of Godmanchester. The house was built for John Jackson Esq, Receiver-General for Huntingdon, and bought by Jacob Julian Baumgartner in 1804, a merchant of Huguenot Swiss extraction.
RESTORATION
Given over to the WAAF and RAF during the war, converted to flats after the war, and in 1977 badly damaged by fire, it was initially restored by the Herrtage family, with the help of a Historic Buildings Council repairs grant and was then bought by Christopher Vane Percy, a direct descendant of Jacob Julian Baumgartner, in 1983, as home for himself, his wife, Lady Linda, and their three children, Maximilian, Grace and Tryce. It is furnished and decorated as a family home, and includes portraits and heirlooms, including a portrait of a Percy relation, Selina, Countess of Huntingdon.
THE BRIDGE AND GARDENS
The gardens are enclosed with 18th century brick walls and mature trees, and are connected by a Chinese-style bridge to the island in the River Great Ouse from which the house takes its name. The Chinese bridge is a replica of the original 18thcentury bridge, long lost, but happily recorded in old photographs. Rebuilt in 1988, the bridge's restoration received the 1989 Environmental trophy from the Rotary Club of Huntingdon, and the Cambridge Association of Architects Craftsmanship Award in the same year. The restoration of the 18th century cupola to the mews house, in 1995, also received a Conservation and Design Award from the District Council.