Palatial mansion at the centre of 25,000 acres of park and agricultural land.
Wells-next-the-Sea, Norfolk, NR23 1AB
Get Directions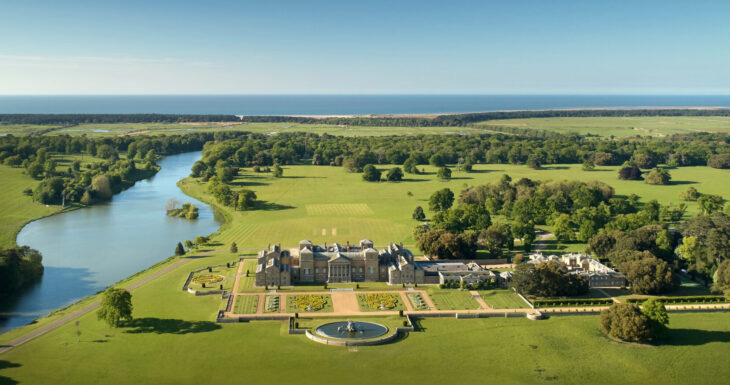 Accessibility
Guide dogs welcome
Accessible parking
Access statement available
Accessible toilets
Wheelchair ramps/routes
There are many theories as to why Holkham's gamekeepers first came to wear 'Bowler' or 'Coke' hat.
The original story is that in 1849, William Coke, nephew of the first Earl of Leicester, commissioned his hatter James Lock, to design a close-fitting, low crowned hat. William stressed that the hat must be strong; in order to protect his gamekeepers' heads from low branches while out horse riding and from potential attacks by poachers.
A prototype of the hat was made by Lock's chief hatter, Thomas Bowler, and when William visited Locks to inspect the design, he was presented with a hard hat with a round, low crown and small brim, covered in a rough finished felt.
As the story goes, William then took the hat outside on to the pavement and promptly jumped up and down on it to determine its durability. Happily the hat withstood the test and in accordance with Locks' usual practice, was called the 'Coke' hat, after the customer for whom it was made. This is probably why the hat soon became known as the 'Billy Coke' or 'Billycock' hat in Norfolk.
Later on the hat was more generally known as the Bowler, after the Bowler Brothers, who went on to manufacture it. Although fashionable in shooting parties, the hat was also adopted by city stockbrokers and barristers and soon became uniform headwear.
Holkham's present team of gamekeepers wear the 'Coke' hat with as much pride today. The privilege of wearing a traditional bowler hat is earned after one year's service at Holkham.
Accessibility
Guide dogs welcome
Accessible parking
Access statement available
Accessible toilets
Wheelchair ramps/routes