Englefield House
Late sixteenth-century house largely rebuilt in the 1850s by Richard Armstrong and sitting in its own extensive park.
Englefield, Reading, Berkshire, RG7 5EN
Get Directions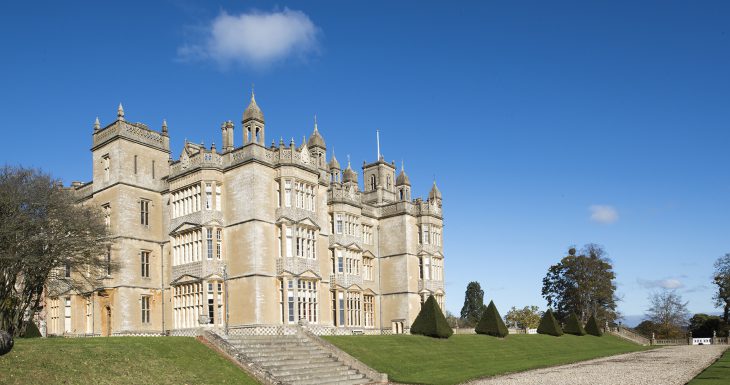 Free for members
Facilities
Easily accessible without car

Free parking

Garden only

Parkland / open spaces
Accessibility
Accessible parking
Guide dogs welcome
There is an inscription on a stone staircase in Englefield Gardens which reads, "If you help towards Englefield Garden either in flowers or invention you shall be welcome thither".
This inscription was taken from a letter written in 1601 by Sir Edward Norris, the then occupier of Englefield House, and shows that a garden was managed and cared for on the Estate over 400 years ago.
However, the origins of the gardens as they appear today were created in the late 1860's with the building of the stone balustrades and staircases by Italian craftsmen.
In 1936 the woodland garden on the hill above the house was created by thinning the forest. At the same time the stream was constructed and the area planted by Wallace & Barr of Tunbridge Wells. Much of the original planting is still in place and this includes varieties of rhododendron, azalea, camellia, magnolia, hamamelis, parrotia, cornus, davidia and acer. The lower terrace was redesigned in 1974 by the redoubtable landscape architect Lanning Roper.
The grotto at the top of the stream is a more recent addition to the gardens and is lined with a mosaic of pine cones. Near the entrance gates is a children's garden with water jets hidden in four small statues as well as slides and swings – great fun for younger visitors.
A walled kitchen garden has recently been restored to produce many varieties of fruit, vegetables, herbs and flowers (access to the walled kitchen garden is only for groups that book in advance). The gardens themselves are enclosed by our magnificent deer park and provide stunning views over our lake and surrounding countryside beyond.
Please note: The information on the Historic Houses website is advisory, but please always check the website of the house or garden you intend to visit before travelling.
View website
Our gardens are open to visitors every Monday throughout the year:
10.00am – 6.00pm April to October.
10.00am – 4.00pm November to March.
From March to October we are able to accommodate group tours Tuesday to Thursday for a minimum of 20 people.
Historic Houses members visit for free, gardens only.
Adults: £5.00
Children: Free
From March to October we are able to accommodate group tours in the gardens Tuesday to Thursday for a minimum of 20 people. Tours are led by our Head Gardener.
Group tours must be booked in advance.
peter.carson@englefield.co.uk or 07585 509747.
Accessibility
Accessible parking
Guide dogs welcome
Become a Historic Houses member
Explore the nation's heritage from just £65 per year.
Hundreds of the most beautiful historic houses, castles, and gardens across Britain offer our members free entry.
Also: receive a quarterly magazine, enjoy monthly online lectures, get exclusive invitations to buy tickets for behind-the-scenes tours, and take up a range of special offers on holidays, books, and other products you might like.