Columbine Hall
A moated medieval manor house with gardens designed by Chelsea Gold Medal winner George Carter.
Stowupland, Stowmarket, Suffolk, IP14 4AT
Get Directions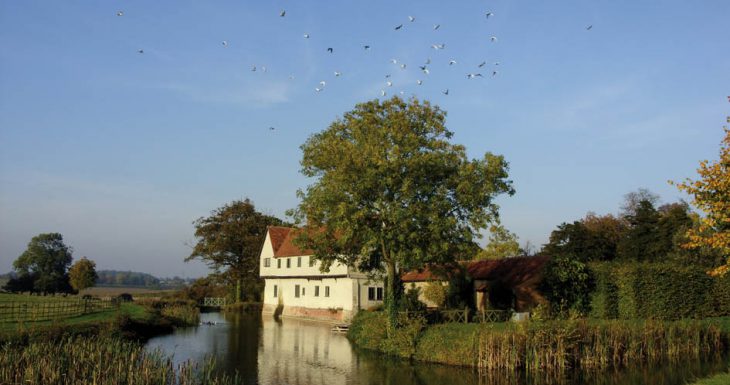 Columbine Hall has appeared in many articles and books. Pevsner's Guide to West Suffolk describes it as "enchanting".
The medieval manor house rises straight from a spectacular moat. It sits in an acre of formal garden inside the moat (designed by Chelsea Gold Medal winner George Carter). Another 28 acres of orchards, woods, parkland and bog gardens are outside the moat. The gardens were featured in Gardens Illustrated and The English Garden (twice). The interior has been in World of Interiors and style books by Kevin McCloud, George Carter and Ros Byam Shaw.
Hew Stevenson and his late wife Leslie Geddes-Brown bought the manor house, which had been empty for seven years, in 1993, and, along with Melvyn Smith, have transformed the interior. They have filled the house with an eclectic collection including ancestral portraits and paintings by Angie Lewin, whose books Leslie helped to write, and an enormous estate map of 1741. They bought a lifesize Chinese auspicious deer at auction (without seeing it) plus two six-foot Burmese earth spirits and have a spear taken from the fuzzie-wuzzies at the battle of Tamai in 1884. Many are a result of Hew's interest in his family, described in his book, Jobs for the Boys: The Story of a Family in Britain's Imperial Heyday.
Enjoy a guided tour of the stunning house and garden.
Tours that are scheduled will be listed below. If none are scheduled yet, please check back later, or find other tours you might enjoy on our tours listing page here.
Your house is beautiful and fascinating and you make the most informative and entertaining guide.
Delighted to say that the Club had a really enjoyable visit to Columbine Hall - Hew and Kate certainly gave us interesting and entertaining tours of both house and garden. For club members it was wonderful to be out and about on an outing again for the first time in 18 months and the hospitality extended to us made it a relaxed and fun event.