Blair Castle & Gardens
The home of the Atholl family for over seven centuries.
Blair Atholl, Pitlochry, Perthshire, PH18 5TL
Get Directions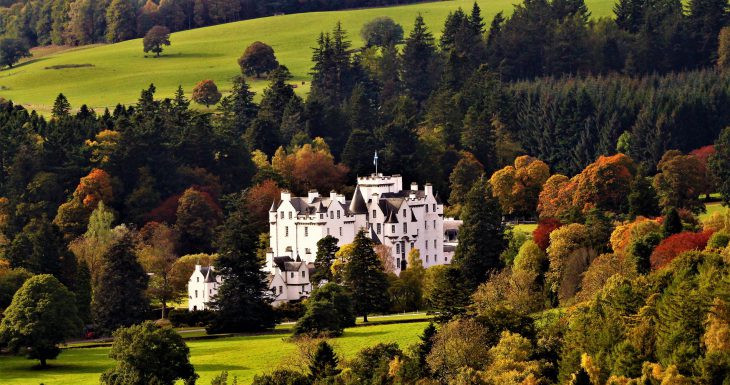 Accessibility
Wheelchair ramps/routes
Accessible parking
Accessible toilets
Hearing loops
Guide dogs welcome
Over 19 generations, the Stewarts and Murrays of Atholl have backed winners and losers, fallen in and out of political favour, won battles and lost them. They have almost all, in one way or another, left their mark on Blair Castle.
The story will take you from Mary, Queen of Scots to the Civil War, and from the Act of Union to the Jacobite cause and the disaster of Culloden, and from the Isle of Man to Queen Victoria's love affair with the Scottish Highlands and her presentation of colours to the Atholl Highlanders.
Medieval Period
The earliest known part of the present castle dates from 1269 and is known as Comyn's Tower. The original tower had an extension added to it by the 3rd Earl in 1530 to form a Great Hall (the present Dining Room) over a series of vaulted chambers below.
Georgian Period
In 1740 the 2nd Duke began his transformation of the medieval castle into a Georgian house that covered most of the foot print we see today. He employed Thomas Clayton to embellish the rooms with some of the finest plasterwork in Scotland and commissioned furniture for the rooms from Scotland's best known cabinet makers.
Victorian Period
Following the growing popularity of Scottish Baronial architecture, the 7th Duke commissioned the Edinburgh architects David Bryce and William Burne to remodel the exterior of the castle in the 1860s/70s.
Crenallations and turrets removed during the Georgian period were reinstated, a new entrance hall was erected and a ballroom added. New gates were installed and the latest services including bathrooms, telephones and gas were introduced for the first time.
During the Great War the castle was used as an auxiliary hospital and from 1922 the family found it more convenient to live in the private apartments.
Millennial Period
For the new Millennium, architects Jamie Troughton and Hugh Broughton constructed a new exhibition hall known as the Banvie Hall. In addition, the 1908 hydroelectric scheme was reinstated, providing power for the castle.
Accessibility
Wheelchair ramps/routes
Accessible parking
Accessible toilets
Hearing loops
Guide dogs welcome