25 Kensington Gore
Restored grand London mansion with roof garden overlooking Kensington Gardens and Hyde Park.
London, SW7 2ET
Get Directions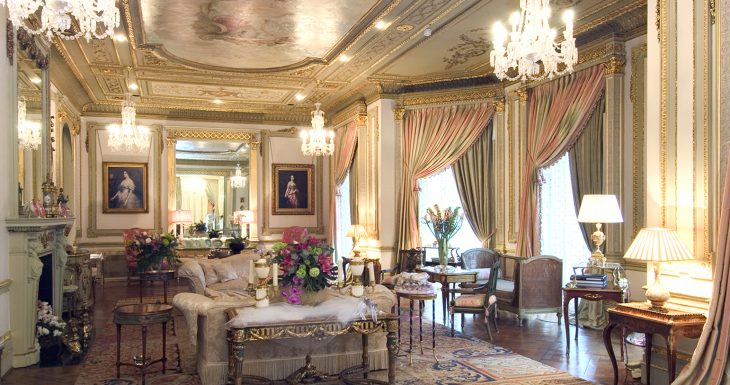 Accessibility
There is a lift in the property but a few steps at the front of the house.
This magnificent historic house stands adjacent to a small plaza dominated by a statue of Lord Napier astride his horse. The property was built by Sir Samuel of Samuel Montague Bank from 1873-75, and employed one of the most famous architects of the time, Samuel Whitfield Daukes.
Tours that are scheduled will be listed below. If none are scheduled yet, please check back later, or find other tours you might enjoy on our tours listing page here.
TOUR DURATION
1¼ hours
TOUR PRICE
£20.00 per person.
REFRESHMENTS
Tea or coffee with biscuits
RESTRICTIONS
No pets
Book now
Accessibility
There is a lift in the property but a few steps at the front of the house.
Tours of 25 Kensington Gore
At the turn of the century, it housed the head of the Sassoon family. When the Sassoons moved their Bombay headquarters to London, company chairman Albert Sassoon followed his brothers Reuben and Arthur and acquired Kensington Gore, which boasted two white-and-gold Louis XVI drawing rooms. Sassoon furnished the dining room with Jacobean furniture and a tapestry portrait of Queen Victoria. Woodwork in the house was carved and inlaid with ebony and ivory, which had been salvaged from the Prince of Wales' pavilion at the Paris Exhibition.
The tour includes the ground and first floor of the house. Visitors will see six stunning reception rooms, the dining room and the billiard room.
Become a Historic Houses member
Explore the nation's heritage from just £59 per year.
Hundreds of the most beautiful historic houses, castles, and gardens across Britain offer our members free entry.
Receive a quarterly magazine exploring the architecture, collections, and family histories of our grandest and oldest homes, and get an insight into what it takes to keep them standing today.
Enjoy monthly online lectures about the houses and their extraordinary history, presented by experts including house owners, curators and guest lecturers.