Historic Houses announces shortlist for 2023 Collections Award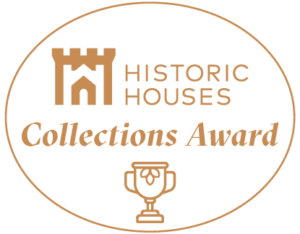 Historic Houses has revealed the five houses shortlisted for the second edition of its Collections Award, run in partnership with auction house Dreweatts.
The Collections Award: Recognising, Responding, Reimagining joined existing Historic Houses awards for gardens, restorations, education, and sustainability in 2022. It honours the creators, owners, curators, researchers, and conservators who preserve, augment, restore and interpret these beautiful and significant objects, enabling the public to understand and enjoy them and the stories that they tell. The winner of the 2022 award was Caerhays Castle in Cornwall, whose remarkable mineral collection stood out to last year's judges. Read more about the inaugural award here.
On the look-out, not for the 'best' collection, but rather for the most compelling story of custodianship from the last year or so, are five leading experts in the worlds of creation, collection, and curation.
The judges
With an MA in History of Art from Cambridge University, Rufus Bird enjoyed a 13-year career in the Decorative arts department at Christie's where he became a Senior Director. He was appointed Deputy Surveyor of the Queen's Works of Art in 2010 and served as Surveyor of the Queen's Works of Art from 2018 to 2021. As the senior curator of decorative arts in the Royal Collection, he was responsible for the care of 500,000 objects in 15 residences, including Buckingham Palace, Windsor Castle, and the Palace of Holyroodhouse.
Alice Minter joined the V&A as Curator of the Rosalinde and Arthur Gilbert Collection in July 2018. Prior to that, she worked for 10 years at Sotheby's London as specialist in ceramics, silver and gold boxes. Alice has co-curated a ground-breaking display: Concealed Histories: Uncovering the story of Nazi Looting Art (6 December – 10 January 2021) and curated the exhibition Masterpieces in miniatures: treasures from the Rosalinde & Arthur Gilbert Collection which has been touring in China since Summer 2021. She is now leading a complete refurbishment and expansion of the Gilbert Galleries, due to open in late 2025. Alongside these projects, Alice is a member of the vetting committee at TEFAF, a member of the Silver Society committee and a trustee of the Strawberry Hill Collection Trust.
Giles Kime is Country Life's Executive and Interiors Editor, an expert in interior design with decades of experience since starting his career at The World of Interiors magazine. Giles joined Country Life in 2016, introducing new weekly interiors features, bridging the gap between our coverage of architecture and gardening. He previously launched a design section in The Telegraph and spent over a decade at Homes & Gardens magazine.
Alice Dugdale had a varied earlier career working for Andrew Edmunds in his printshop specialising in 18th century cartoons, three British opera companies, diploma in building conservation with a thesis on British bath houses. She had an early passion for art & architectural history, patrons, collectors & their collections which resulted in becoming a curator of a one private collection for the last 33 years as well as working with other collectors & collections. Her current role has been very wide ranging from managing a collection to working on building projects & follies, decorative schemes and producing books on the collection and architectural schemes.
After reading History of Art at Cambridge, Hamish Dewar apprenticed for 5 years in conservation of paintings under Richard Maelzer at Edward Speelman Ltd between 1978-1983. He became a leading picture conservator after setting up his own practice, Hamish Dewar Conservation Ltd, in 1983.
The houses
The collection at Powderham Castle, in Devon, covers 600 years including ancient manuscripts and a personal library with over 4,000 volumes. The fine art offers oil paintings, sculptures, and textiles, while furniture includes hundreds of pieces purpose-made for Powderham. Several are of national significance, such as the Axminster Carpet and the Channon Bookcases, owned by the V&A but held at Powderham on long loan. It also includes thousands of personal family treasures each telling unique stories of those that acquired them, curated, and have cared for them ever since. Powderham's collection is now managed by a full-time collections manager, supported by an archivist and an interning collections assistant plus a small army of collections volunteers.
Temple Newsam, in Yorkshire, is a 500-year-old stately home. It was birthplace to Lord Darnley in 1545, prior to being bought by the financier Sir Arthur Ingram in 1622. His descendants owned the house until 1922, when it was sold to the City of Leeds. Most of the contents were dispersed at this time, leaving the house denuded. However, in 1938 under Director Philip Hendy, Temple Newsam became a museum of decorative arts with two key strands of collecting established: firstly, repatriation of objects to the house; and secondly, the acquisition of the finest examples of British decorative arts up to c. 1840. Furthermore, Temple Newsam became home to Leeds' Old Masters paintings. Consequently, the house now possesses one of the most outstanding collections of decorative arts in Britain – including ceramics, furniture, metalwork, textiles, and wallpaper – displayed in a spectacular country house.
Goodwood House, West Sussex, has been the home of the Dukes of Richmond and their families for over 300 years. The Goodwood Collection reflects the tastes and attitudes of the successive Dukes who have formed it, and who indeed are still forming it today. The Collection comprises important paintings, including by Canaletto, Stubbs, Lely and Reynolds; significant pieces of French and English furniture by William Kent and Delanois, among others; an extensive Sèvres collection, the 3rd Duke being England's greatest patron of Sèvres porcelain; a suite of Gobelins tapestries that very unusually remain together in their original location; over 3000 books dating from the 14th to the 19th centuries; costumes, including coronation robes, a rare almost complete page boy's uniform and livery uniforms; textiles; silver; clocks; watches; sculpture; ceramics; photographs; and arms and armour.
Ushaw, Durham, is home to a broad collection of fine art, religious and secular objects and books. For over 200 years, Ushaw was a Catholic seminary. During this time, objects were acquired, displayed and used. The collection of Nazarene School paintings and 19th century sculpture are of particular note. Religious objects encompass church plate, recusant chalices and an important collection of clerical textiles. The latter includes the Westminster Vestment, produced in the second half of the fifteenth century and believed to have been in the wardrobe of Richard III. The library contains over 50,000 volumes, including unique early manuscripts and rare editions. The collections are housed and displayed in a range of listed buildings, most of which were designed by the Pugin family.
Cragend Farm, in Northumberland, is home to a collection of an eclectic mix of agricultural equipment, historical & engineering artefacts that have been discovered whilst renovating the site to accompany the tours providing a sensory experience.  This is enhanced with maps, documents, newspaper articles and photographs. The farm had been completely cleared prior to its sale in 2011 and not even a pitchfork survived above ground. Many interesting items have come to light, such as milk churns, heavy horseshoes, and glass bottles.
The winner of the award will be announced at the Historic Houses AGM on 14 November.
Become a Historic Houses member
Explore the nation's heritage from just £65 per year.
Hundreds of the most beautiful historic houses, castles, and gardens across Britain offer our members free entry.
Also: receive a quarterly magazine, enjoy monthly online lectures, get exclusive invitations to buy tickets for behind-the-scenes tours, and take up a range of special offers on holidays, books, and other products you might like.