Announcing the Shortlist for the Inaugral Collections Award
The Collections Award: Recognising, Responding, Reimagining
The Shortlist
We are delighted to announce the shortlist for the inaugral Collections Award, in partnership with Dreweatts auctioneers.
The award honour the creators, owners, curators, researchers, and conservators who preserve, augment, restore and interpret these beautiful and significant objects, enabling the public to understand and enjoy them and the stories that they tell.
This year's inaugral award will be judged by five leading experts in the worlds of curation, collection, and creation. They will be looking at how these collections tell interesting contemporary stories about how historic houses are recognising new challenges, responding to changing audiences and interests, or reimagining the composition or presentation of their contents.
In alphabetical order, this is the shortlist for 2022:
Belmont House, Kent
The 5th Lord Harris Clock and Watch Collection
Founding President of the Antiquarian Horological Society (1953), the 5th Lord Harris (1889-1984) had collected clocks and watches from childhood. He was collecting when Queen Victoria was on the throne and still doing so when Mrs Thatcher was Prime Minister! By the time of his death in 1984 he had amassed over 340 clocks and watches, forming one of the finest collections of its kind in the world. The collection at Belmont House majors on clocks from the 'English Golden Age' (approx. 1650-1750) and the 'French Golden Age' (approx. 1780-1820) but is remarkably all-embracing in its coverage of international horological history.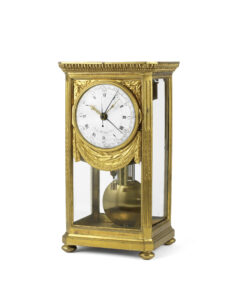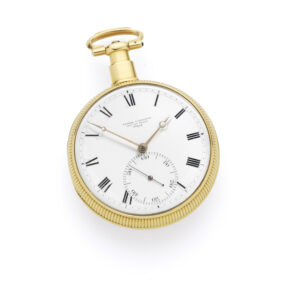 Blair Castle, Perthshire
Castle Couture
Blair Castle in Highland Perthshire dates from the 13th century and has been the home of the Stewarts and Murrays of Atholl. Their exhibition for 2022, Castle Couture, is a collection of historic clothing dating from the 18th and 19th centuries featuring ballgowns, waistcoats, sacque dresses and children's outfits. Historical clothing gives us an immediate and physical gateway into the past. It offers the opportunity to think about the person who wore the outfit, the rooms they wore the garments in, and their daily life. These garments are intimately linked to the Dukes and Duchesses of Atholl and their families, giving a glimpse into the life of this family. Many of the pieces beautifully explain the extravagance and flamboyance of clothing, from French sacque dresses through to Victorian ballgowns. The fabrics expose a broader connection to the world – from a Chinese painted silk dress to heavy brocade from Lyon, France, highlighting the distances travelled.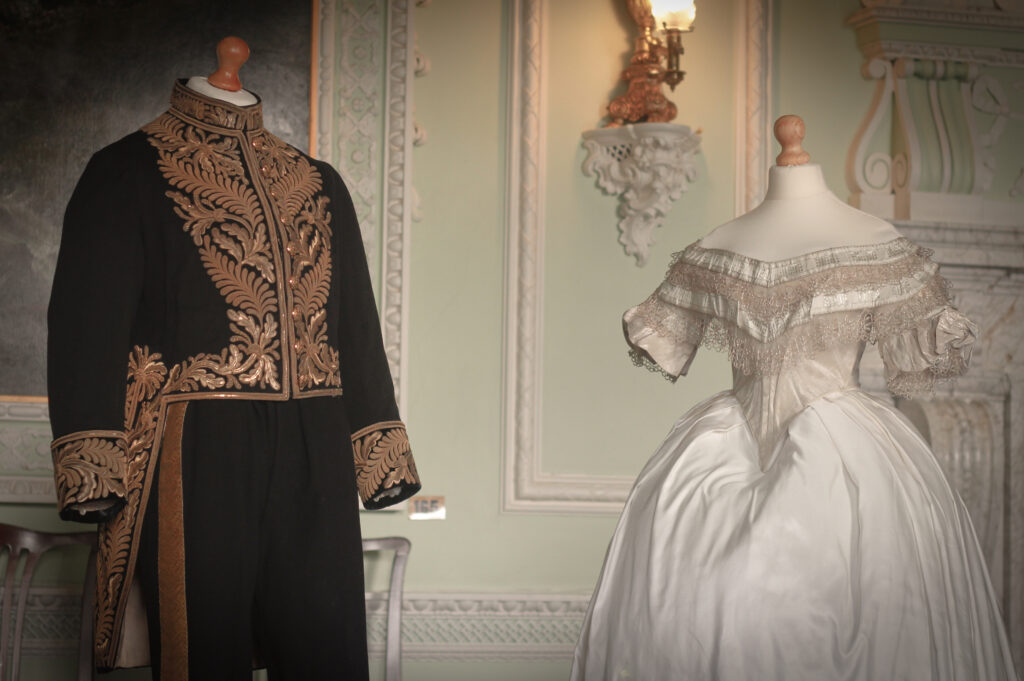 Caerhays Castle, Cornwall
Williams Caerhays Mineral Collection
The Williams Caerhays Mineral collection at Caerhays Castle is the product of generations of collecting by the Williams family, predominantly in the Gwennap parish of Cornwall. They were well established as highly successful mining managers by the early 1700s, living at Burncoose House, and subsequently at Scorrier House. John Williams senior (1753-1841) and his son, John Williams junior (1777-1849) were largely responsible for creating the superb mineral collections at those two residences in the late 18th and early 19th centuries.
The mineral collection at Scorrier House was very large. Although it was not a systematic one, it comprised the finest suites of secondary copper minerals from Cornwall, a veritable treasure chest of rare minerals, and of great importance in the Annals of Cornish Mineral Collecting.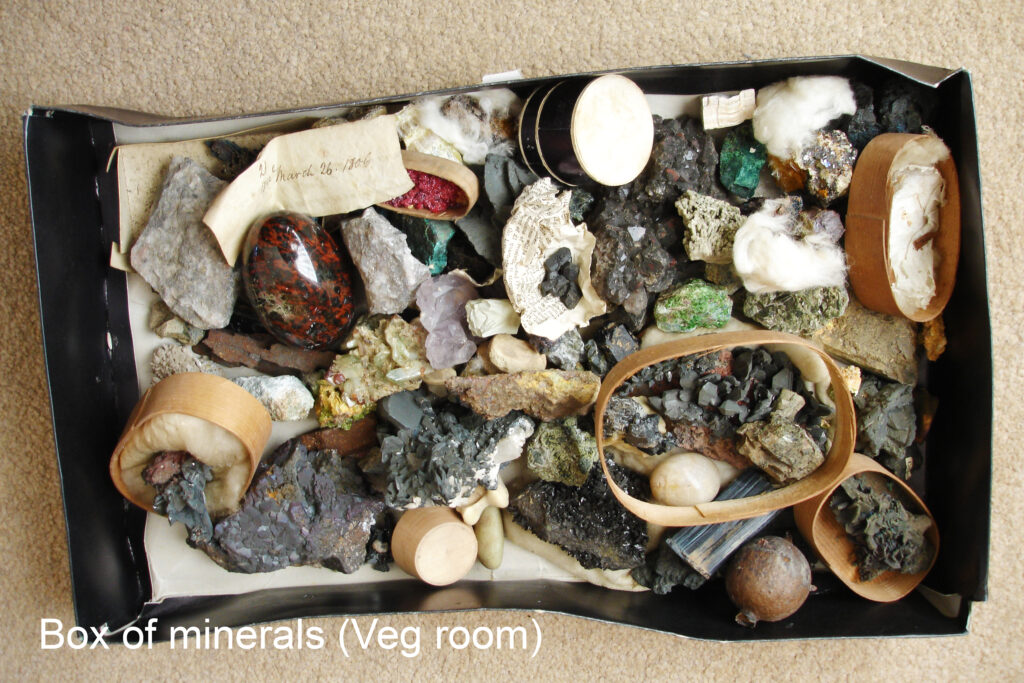 Knowsley Hall, Merseyside
The Derby Collection
The Derby Collection at Knowsley Hall on Merseyside is the inheritance of the Stanley family, the Earls of Derby since 1485. The collections are principally comprised of around 150 oil paintings (old masters, portraits, landscapes and equestrian art); around 7,000 natural history watercolours pasted into about 70 folio albums (mid-17th to mid-19thc); a major library of around 10,000 books (mostly natural history but also on horse racing as well as national and regional history); very extensive family and estate archives; good English and French furniture and decorative arts (18th and 19thc); in addition to fine silver and silver-gilt especially horse racing trophies (18th to 20thc).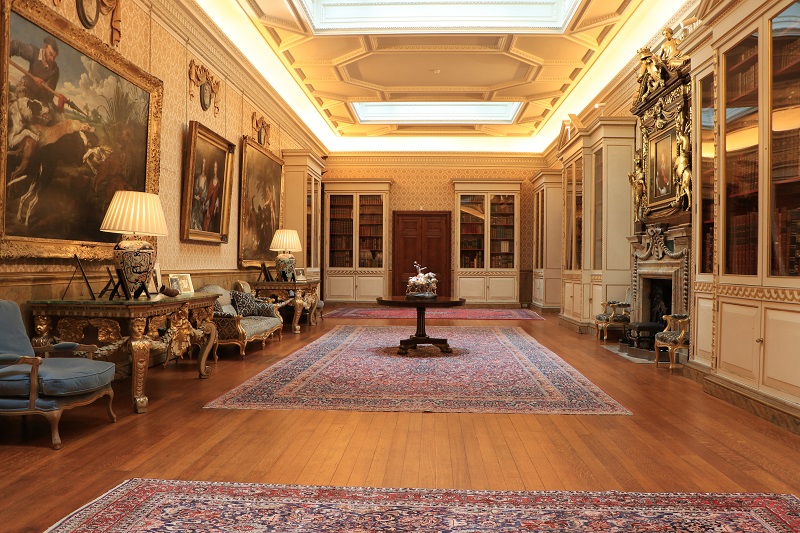 Parham House, West Sussex
Parham House Collection
The collection at Parham House is a very rare surviving example of predominantly 20th century connoisseurship created especially for this major Elizabethan house, a family home first opened to the public in 1948. Shown to visitors as they always have been, arranged and decorated in a chronological order dictated by notable Tudor, Stuart and later portraits of family and historical figures, the rooms display particularly fine 17th and 18th century needlework and carpets; early English furniture; porcelain and many quirky, unusual objects. The collection, which is still growing, tells the stories of Parham, its people and the many centuries it has lived through.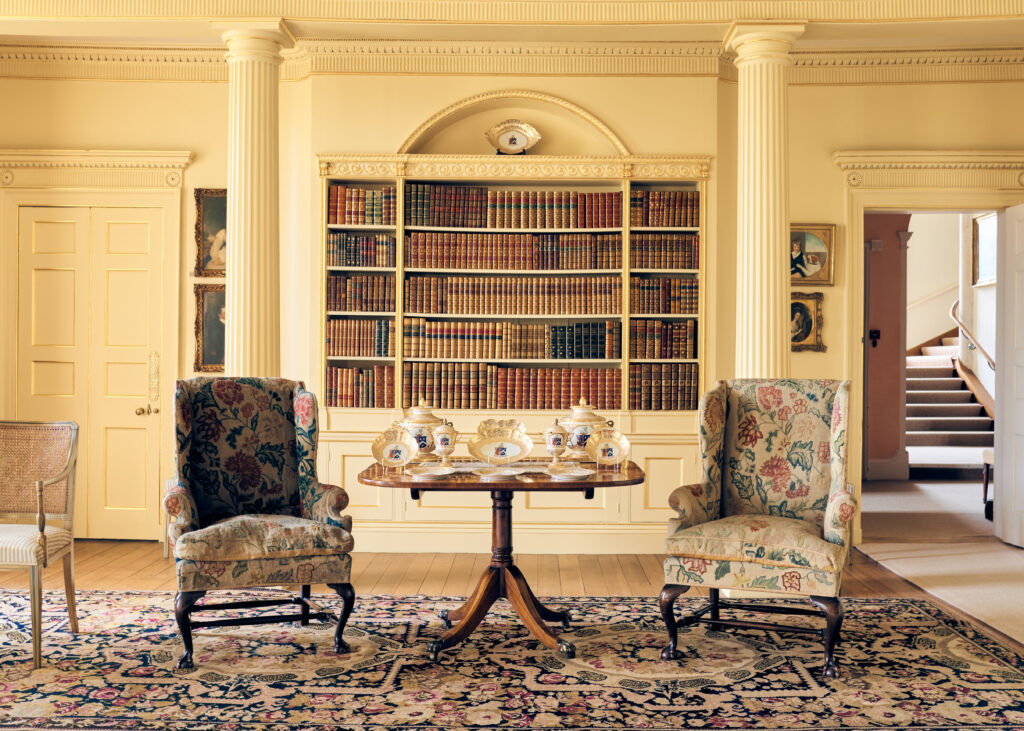 Weston Park, Shropshire
Weston Park Collection
Weston Park's collection comprises 35,000 objects that range from van Dyck paintings to children's rattles – some great, some small. Every item has a tale to tell and all are historically associated with the Earls of Bradford and their ancestors, who called Weston Park their home. Many of the items on display in the main rooms are of world-class quality, with important tapestries, furniture, paintings, porcelain, books and silver that demonstrate excellence in their design and in their making. The collection includes British items, such as furniture by Chippendale and Gillows, and also global items including Oriental and European decorative art.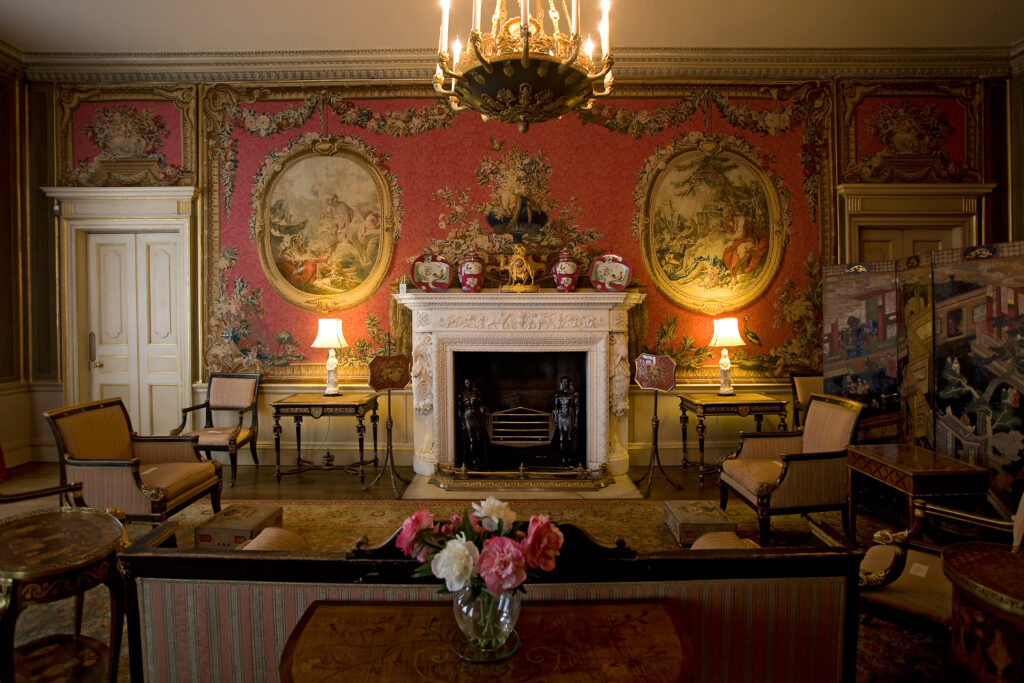 Congratulations to all those shortlisted!
The judges will be visiting the houses over the summer, and the winner will be announced at our AGM on 15 November.
In July, you will be able to see a selection of items on display in a free exhibition at Dreweatt's offices on Pall Mall. Look out for further details nearer the time.