A French Emperor moves to Chislehurst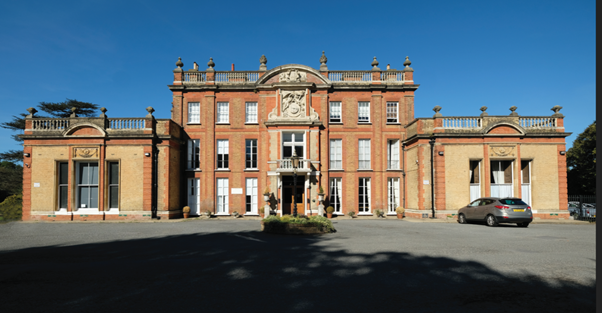 Forward planning or a lucky co-incidence?
150 years ago on March 19th 1871 Napoleon lll, Emperor of the French, was released after 195 days as a prisoner of war following defeat by Prussia at the Battle of Sedan. The next day Napoleon arrived in England and set off to join his wife the Empress Eugenie and his only legitimate son, the Prince Imperial. The family had taken up residence at Camden Place a French styled mansion in the quiet Kent village of Chislehurst.
Over the coming years the French flag flew over the house and a French court in exile was established. There was a steady procession of royal and political visitors, including Queen Victoria and Czar Alexander ll.  Bonaparte supporters as well as artists fleeing the siege of Paris found their way to Chislehurst.
How the French Imperial family arrived in Chislehurst is still shrouded in mystery. Camden Place has a history dating back to the early 1600's when antiquarian William Camden built a home on the site. In the 1760's Charles Pratt took the name of the house when he was ennobled, becoming Lord Camden. He and a subsequent owner, Thompson Bonar worked with architects George Dance and James 'Arthenian' Stuart to turn a country house into a Georgian mansion.
In 1860 the house was sold for £30,000 to a banker Nathaniel Strode. Strode had met the Emperor when he had been exiled in England during the 1840's. Strode was trustee to an actress Harriette Howard who became a long term mistress and financial backer for Louis Napoleon's political ambitions. Strode was something of a Francophile and he set about converting the mansion into a French styled chateau with plasterwork, decoration and furnishings in the French style.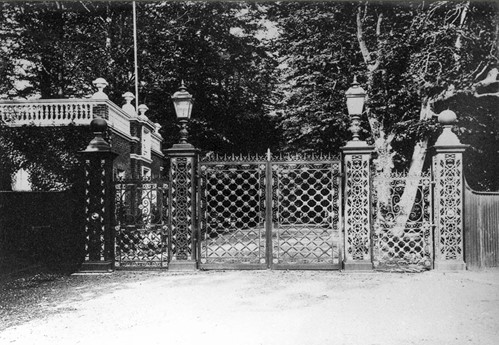 The gates came from the Paris Exhibition
Gates, from the Paris exhibition, were installed and a new dining room was added, built specifically to fit panelling taken from the Grande Cabinet of the Château de Bercy. Created by craftsmen of the French royal works, this panelling was sold at auction for 12,000 francs. By the time the Empress and Prince Imperial were forced into exile Camden Place was fit for a French royal household.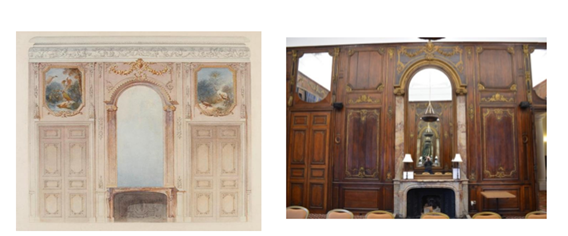 A watercolour on the left shows the Grand Salon in the Chateau de Bercy and the dining room at Camden Place today is on the right.
It seems Strode was quick to put Camden Place at the Empresses disposal when she fled Paris in 1870. He claimed to have had a premonition that Napoleon would need a bolt hole in England but coincidentally he had received 900,000 francs from the French civil list in 1862 and 1864. Perhaps Napoleon who had already experienced being exiled and imprisoned was preparing his own plan B, working through this well-known 'fixer'.
Certainly knowing Strode through Miss Howard was not the Emperor's only connection to Camden Place. As a young man in England there was talk of engagement to a beautiful debutante, Emily Rowles. Emily was born at Camden Place and her family had rented the house for three years. Possibly they spoke about the property, its discrete location and proximity to London and a Catholic church.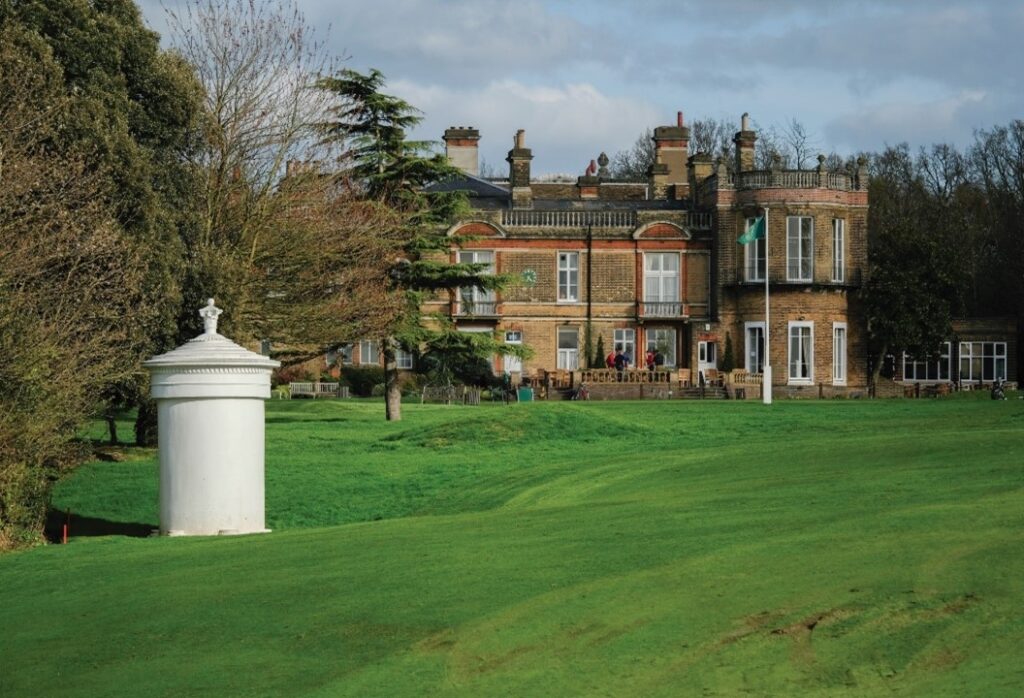 In the rear a replica of the Temple found at St Cloud had been added by architect James 'Arthenian' Stuart in the 1760's. Another feature that would make the French family feel more at home.
Once settled in Chislehurst Napoleon adopted the life of a country gentleman, walking to church and watching cricket. He wore suit and top hat not military uniform and travelled by rail to London, refusing a special train but simply travelling first class. The local children loved him as he always had pennies in his pocket for them.
Thoughts of a return to power for himself and importantly his son were still subject of debate and planning. There was open talk of a future Napoleon lV.
Unfortunately he was a very sick man. Bladder stones which had incapacitated him at the Battle of Sedan continued to cause terrible pain. The Emperor died in his bedroom at Camden Place in 1873, following surgery to deal with these stones.
Source: The Graphic published on 25 January 1873
The Emperor died on Thursday the 9th inst., and by Saturday the little village of Chislehurst was filled to overflowing with an influx of persons drawn thither by motive either of curiosity, of sympathy or of respect. The inns and other places of accommodation were speedily filled, and many, who had intended to stay at Chislehurst till after the funeral, were obliged to return to London to sleep. The bulk of these immigrants were naturally Frenchmen.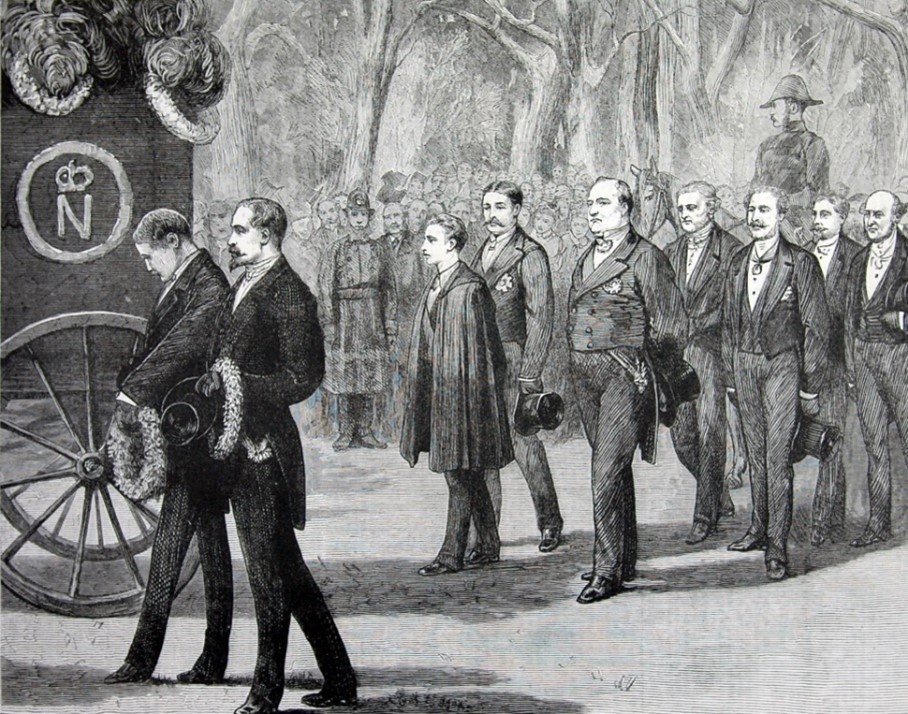 The hearse was drawn by 8 horses covered in black. The Prince Imperial walked behind followed by members of the Bonaparte family and representatives of the British and Italian Royal families. Only 200 could be squashed into St Mary's (where an effigy of Napoleon can still be seen) while some twenty thousand stood outside.
Whether coincidence or forward planning brought the Imperial family may be a mystery we never resolve, their presence left a mark on Chislehurst. We not only have Camden Place and streets named for them, we also for a large Celtic cross which stands opposite Camden Place on the now named Prince Imperial Way. Engraved with words from the Prince's will, it was erected and paid for by the people of Chislehurst to mark the death of the popular young Prince who was tragically killed whilst fighting in British uniform in the Zulu wars in 1879.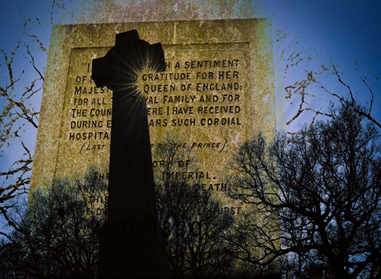 Napoleon lll and his Carnival Empire: John Bierman
While the splendid boulevards and avenues of present day Paris and much of the city's architecture, implicitly memorialise the third Napoleon, it is left to a modest back road in a leafy London suburb to commemorate the young man who might have become the fourth.
For the last 125 years Camden Place has been the clubhouse for Chislehurst Golf Club. Its interiors have changed very little since the Empress left the house and we are at the beginning of a journey to understand and conserve the unique architectural heritage we enjoy here. As part of that we are delighted to have been accepted as a member of Historic Houses.
By arrangement visitors are welcome to tour this house full of historical and architectural significance. Handicapped golfers' might also try their hand across land that the Imperial family enjoyed.