Stained Glass Windows at Historic Houses
This week's Feature Fridays looks at Stained Glass at Historic Houses, with numerous examples to mention. As you'll read below, stained glass became a popular means of honouring England's romantic medieval past in the late Georgian period, and it's from this time that many of the windows in Historic Houses places date back to.
The Charterhouse, London
In 1884 both of the east windows in the Chapel were fitted with stained glass by Charles Clutterbuck – now only one, depicting the Crucifixion, remains. A fine example of early Victorian stained glass.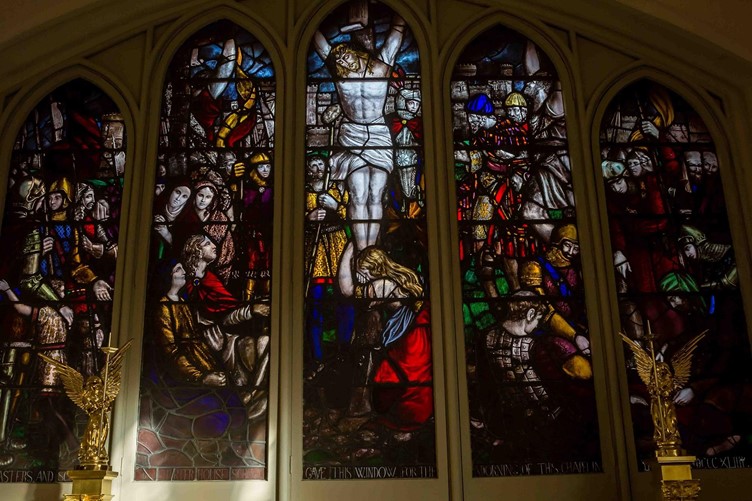 Hodsock Priory, Nottinghamshire
One of the most magnificent features at Hodsock Priory are the exquisite stained glass windows in the Tudor Gatehouse. Exceptionally designed, these 15th century pieces of art create a beautiful statement.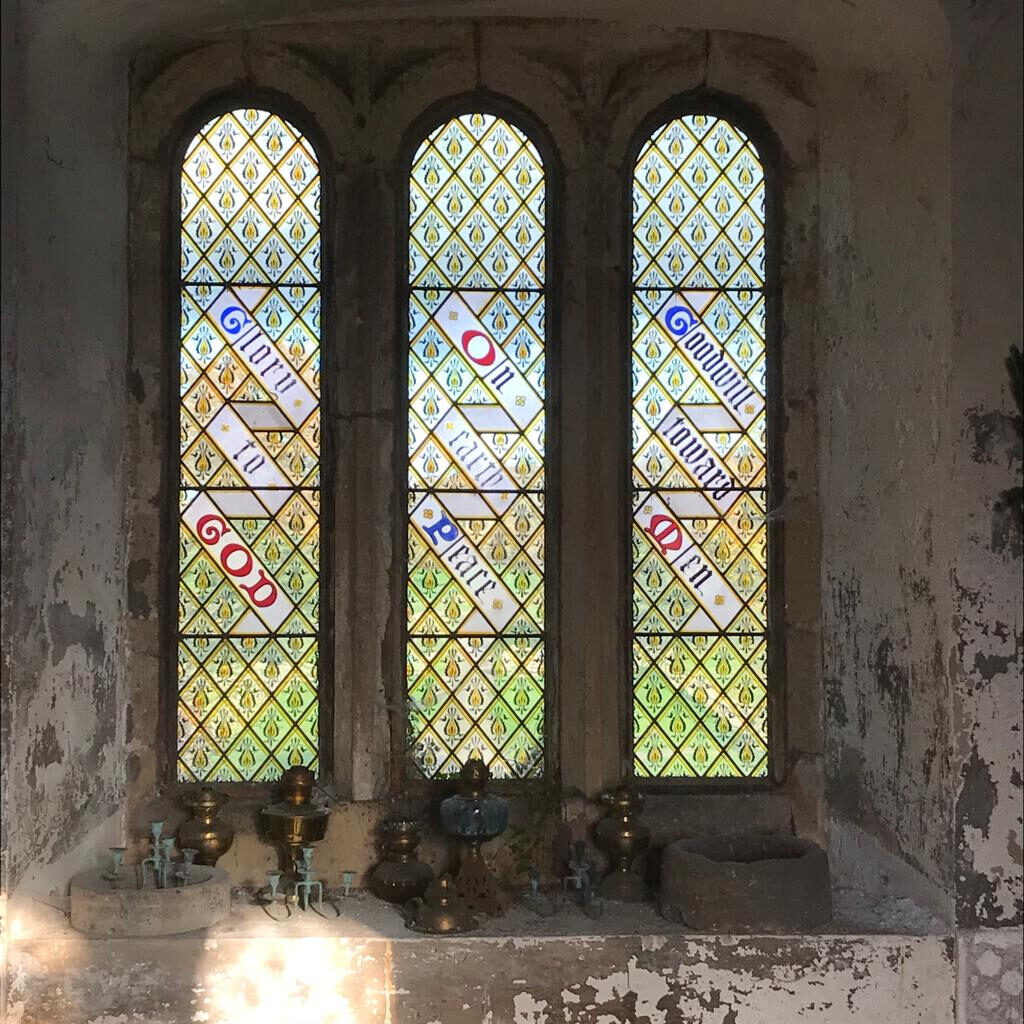 Penshurst Place, Kent
The Baron's Hall is lit from all four sides by a collection of large Gothic windows. Though not as intricate as stained glass, we think the way they flood the hall with light is equally beautiful.
Chenies Manor House, Buckinghamshire
The first church at Chenies, and dedicated to St. Michael, is believed to have been built in the latter part of the 12th century by Alexander de Isenhampstead and subsequently rebuilt and refurbished over the centuries.
The church at Chenies has some beautiful stained glass windows, including Scriptural texts over floriated patterns with 16th c. in the East window of the church Others feature multicoloured grisaille and quarries.
There are a series of six stained-glass windows on the north side of St Michaels Church at Chenies, inside the Bedford Chapel, created by renown Victoria artists C.E. Kempe, circa 1897.
Hever Castle, Kent
Much of what you see in the Castle today is the result of the remarkable efforts of a wealthy American, William Waldorf Astor, who used his fortune to restore and extend the Castle in the early 20th century.
Astor paid great attention to detail and insisted that his workmen used, as far as possible, the same materials and tools as Tudor and Elizabethan craftsmen. He also paid homage to his predecessors.
The coats of arms in the stained glass in the Long Gallery commemorate the different residents of Hever Castle since it was built including Anne Boleyn and another of Henry VIII's six wives, Anne of Cleves.
Knebworth House, Hertfordshire
This beautiful stained glass window shows a full length portrait of the first Tudor King, Henry VII, can be seen in the State Drawing Room at Knebworth House.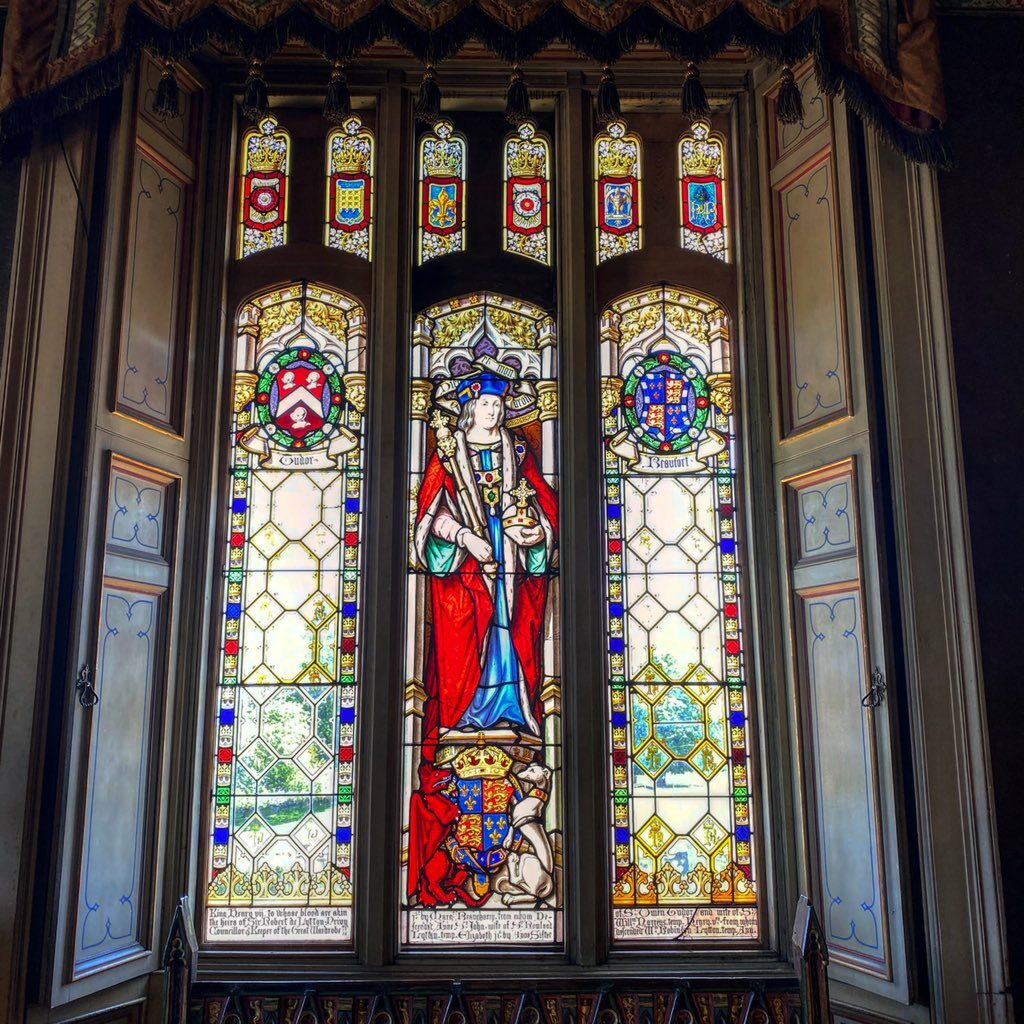 Lamport Hall, Northampton
Here are some examples of stained glass in their church by William Warrington from 1865. The piece is entitled Resurrection.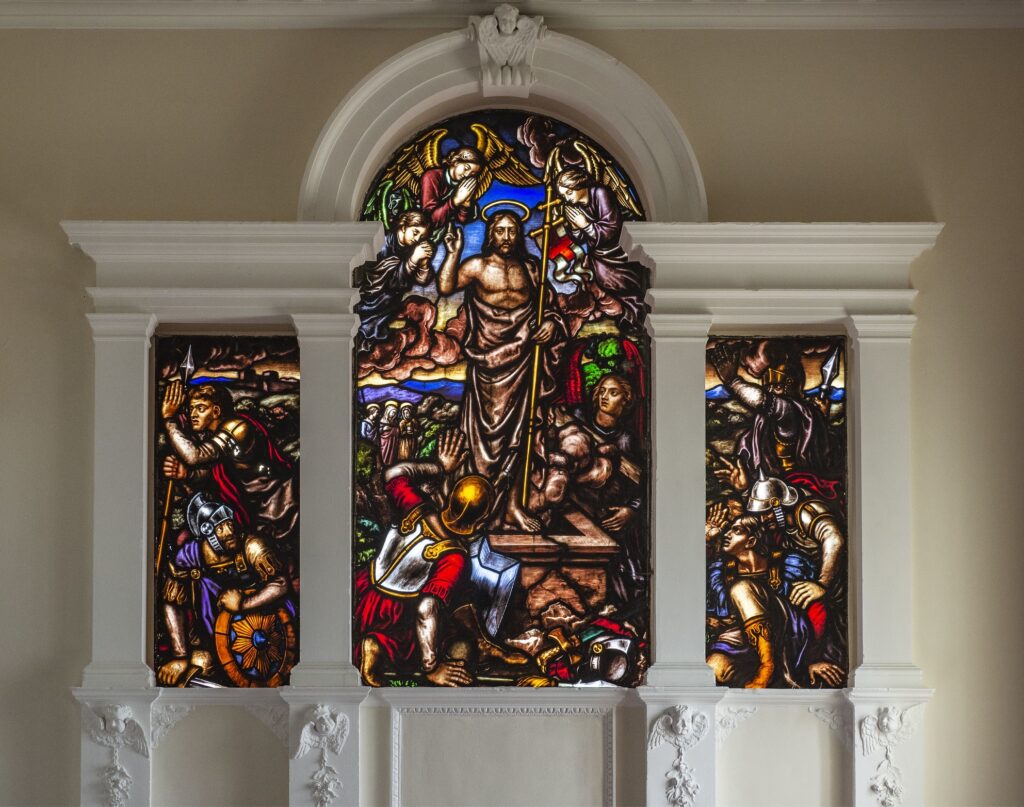 Ushaw Historic House, Chapels and Garden, County Durham
Formerly, a Catholic Seminary, Ushaw is home to a collection of architecturally significant 19th Century Chapels, some quite small, and some medium-sized. However, the most impressive room is the magnificent St Cuthbert's Chapel (above). The stained glass within St. Cuthbert's is Pugin designed.
One of the other chapels is dedicated to St Charles Borromeo. Constructed of Caen stone, the chapel contains numerous references to the Saint's life and work. Of particular note are the stained glass windows illustrating aspects of his life, including an attempt on his life in 1569 by an assailant armed with a blunderbuss. In addition, they have stained glass adorning their Theatre, Refectory (Divines Tearoom), and Library buildings.
Outdoors, they currently have a stained glass window exhibition #InsideOut, by Artist, Stuart Langley. The seven windows were designed specifically for Ushaw; each taking inspiration from iconic objects and features unique to Ushaw and its vast collection, they currently welcome visitors exploring the grounds with a colourful flash of inspiration and a reminder of the treasures to be found within the soon to be re-opened buildings. This exhibition will be illuminated as part of their 'Illuminating Ushaw' Christmas events.
Brancepeth Castle, County Durham
As the Georgian period drew to a close there was an increasing interest in Gothic architecture which was felt to symbolise England's romantic past. Stained glass, seen as one of the crowning glories of the medieval period, came back into fashion and one of the most important producers of stained glass was William Collins (1773 – 1845). Rather than the 'mosaic style' of piecing together different coloured pieces of glass, Collins employed a number of highly skilled artists who re-introduced and further developed a style of painting on glass with enamels. His leading artist, Charles Muss, incorporated techniques used by the Romans and not seen since the middle ages. This style flourished for a relatively short period, and with the death of Collins and the closure of his workshop it fell out of favour.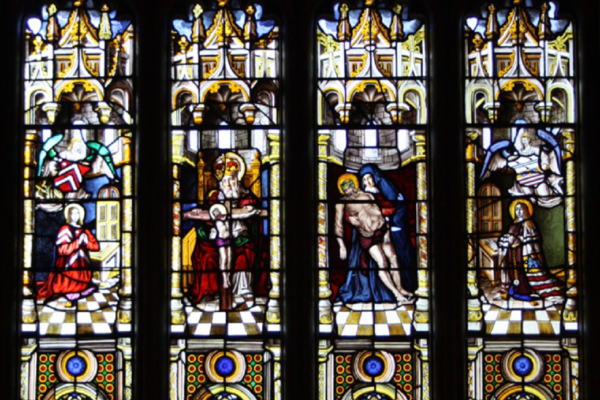 Stained Glass Window's Violent Past Revealed at Burton Constable Hall
In its glorious setting of Burton Constable Hall, a Tudor country house with Georgian interiors, the stained glass in Burton Constable's chapel has proved something of a mystery for years.