Nurturing Creative Heritage at Marchmont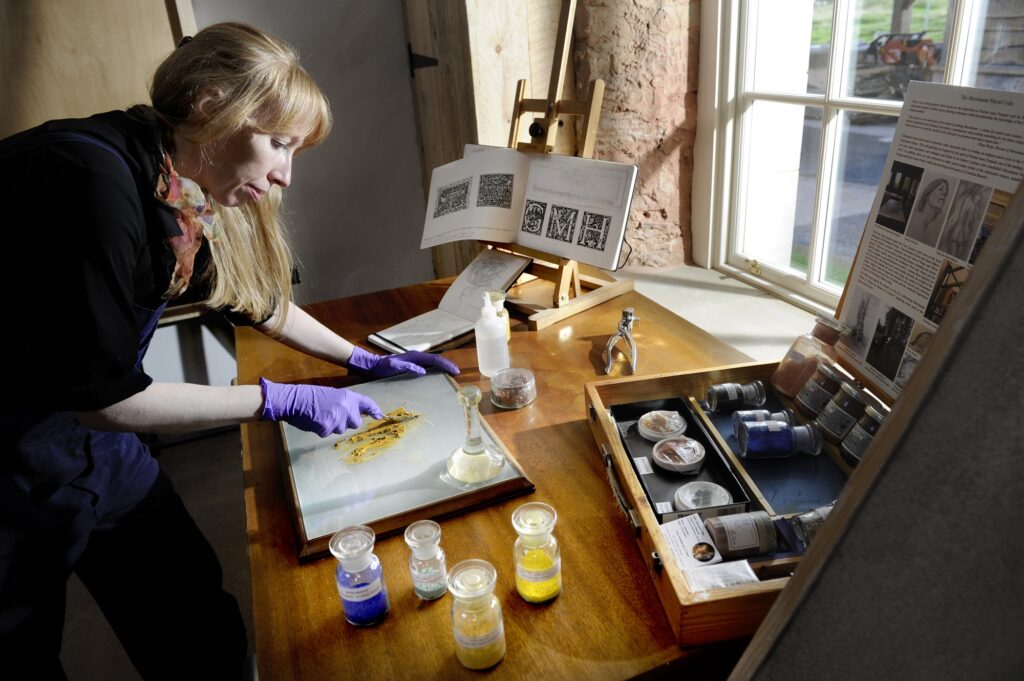 From its origins in the mid-18th century to the present day, the story of Marchmont House combines history with innovation and tradition with renewal.
Many of those who have lived at this spectacular Palladian mansion, near Greenlaw, in the Scottish Borders also had a deep love of the arts.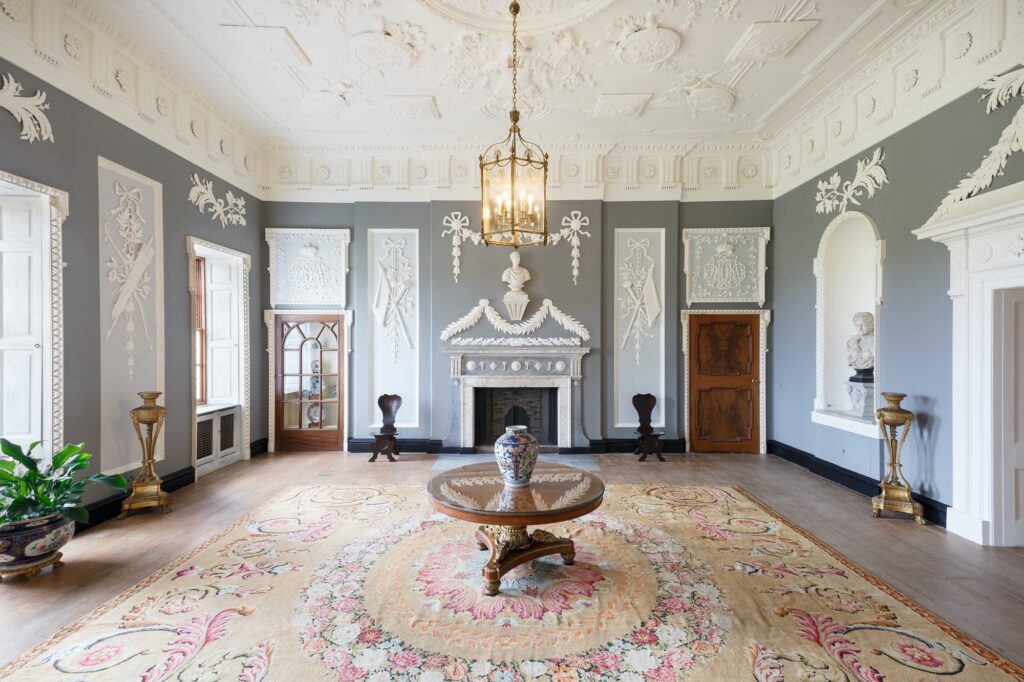 The Saloon at Marchmont
That's as true today, as the family home of former tech entrepreneur Hugo Burge, as it was a century ago when Robert Finnie McEwan commissioned the celebrated architect Sir Robert Lorimer to make sweeping changes – not least the creation of a grand music room with a fine, full sized organ.
Recent years have not only seen an award-winning restoration but also major investment to give Marchmont a new future as a home for artists, makers and creative business.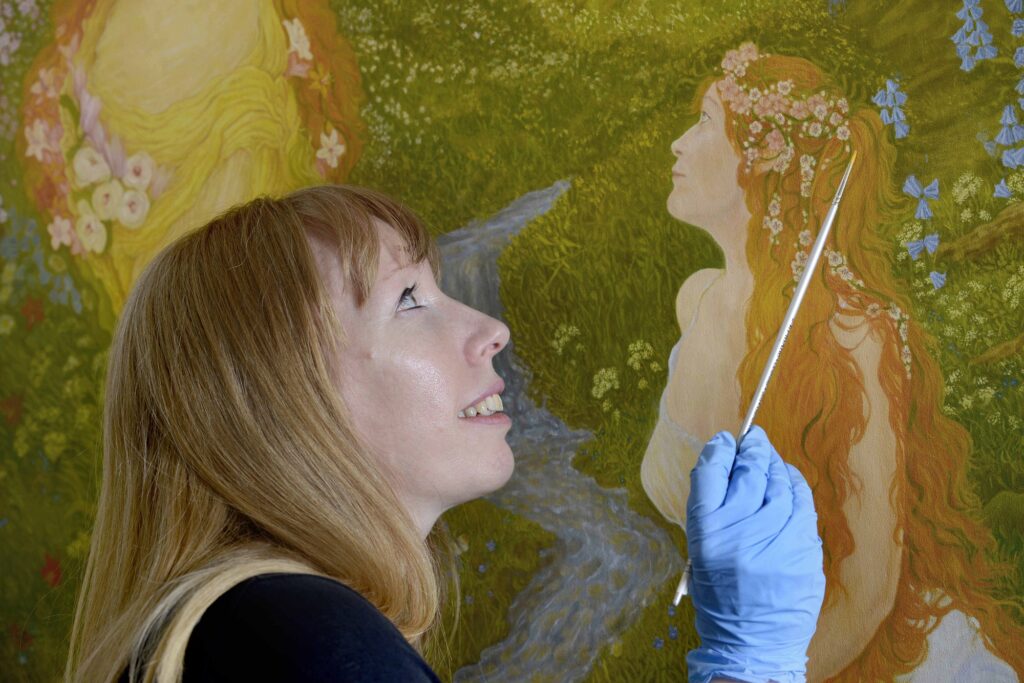 Painting the murals at Marchmont
So when the post of General Manager was advertised, even though I was happily settled in the south of England, I immediately applied.
To my delight the application was successful and I am now part of the skilled team that is working to bring the house and estate to life in ways that make the most of its heritage while introducing some very new ideas.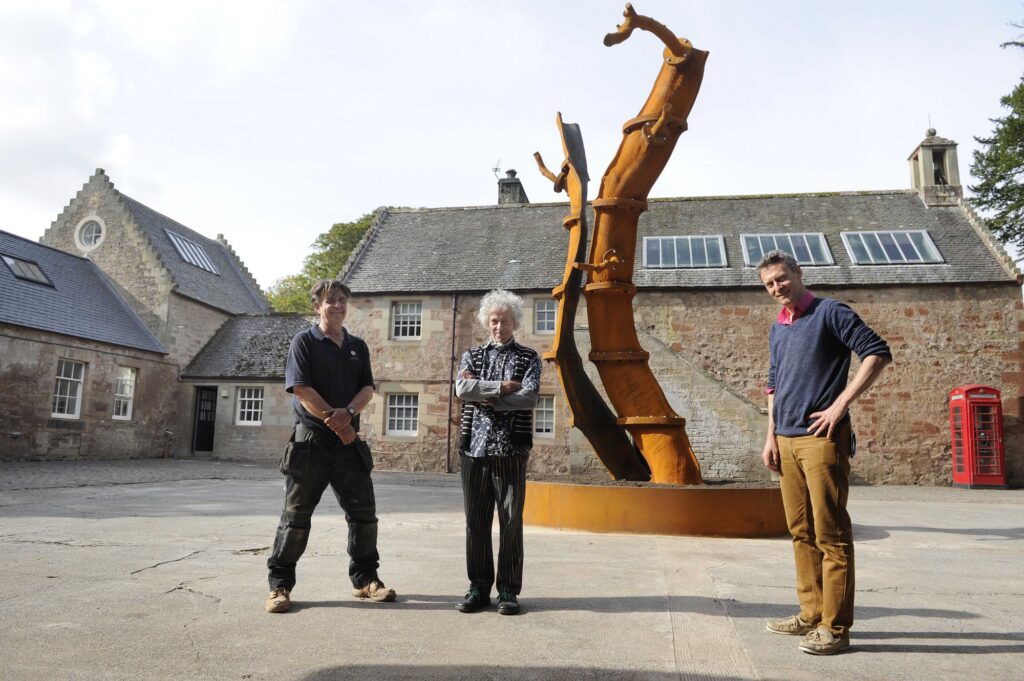 Sculptor, Charlie Poulsen
What particularly attracted me to Marchmont is its commitment to excellence.
Just last month we launched the new £1 million Creative Spaces – a series of six workshops and studios created by transforming outbuildings for high-quality artists and makers. Among the tenants are two young men, Sam Cooper and Richard Platt, who have set up The Marchmont Workshop in the refurbished Lorimer-designed garage block.
Stone cutter and sculptor, Michelle de Bruin
It's a special initiative because they have become the saviours of the tradition of Arts & Crafts rush seated ladder back chairmaking whose last professional practitioner, Lawrence Neal, was about the retire. Rich and Sam are the inheritors of a craft practice stretching back six generations to Ernest Gimson and other luminaries such as Edward Gardiner and Philip Clissett. The pair, recently named as Heritage Arts and Crafts Association apprentices of the year, already have an order book that's full for the next nine months, demonstrating that traditional crafts can be the basis for successful businesses.
And that's just for starters. Their neighbours include sculptors and stone cutters Michelle de Bruin and Jo Crossland, and fresco painter Julia Alexandra Mee. Julia is also the painter of the Marchmont Mural Cycle, a beautiful series of paintings in the Cupola Hall which is inspired by the work of artists such as Phoebe Anna Traquair.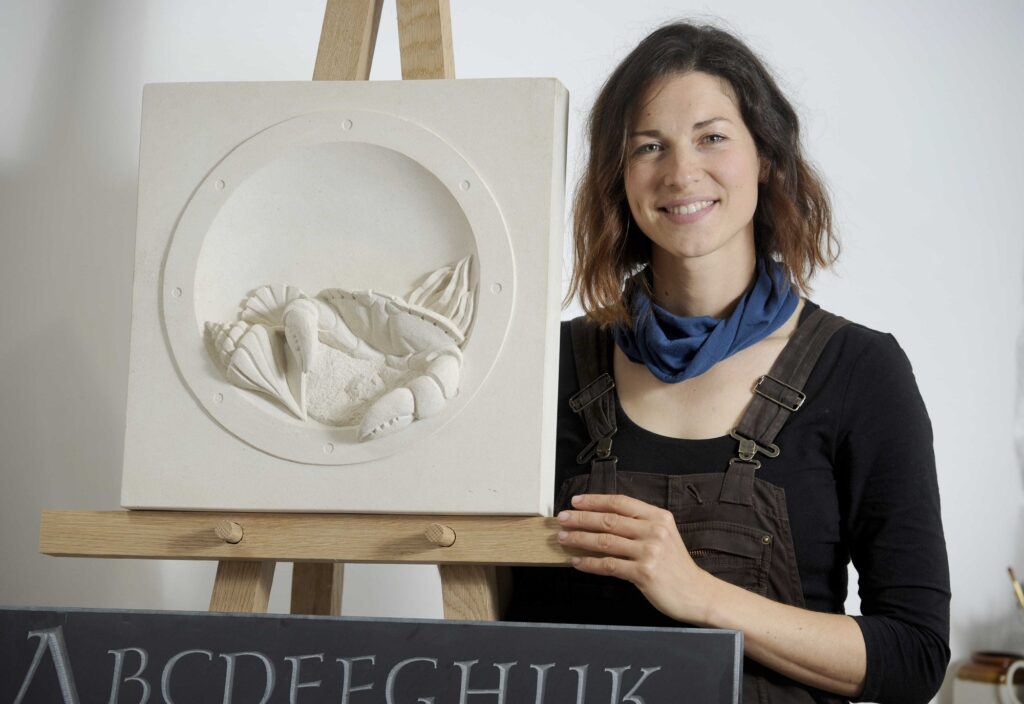 Stone cutter and sculptor, Jo Crossland
One of my roles will be to expand Creative Spaces initiative, enabling more people of exceptional talent to build successful businesses at Marchmont.
The house, which has among the finest Georgian and Arts & Crafts interiors in Scotland, is becoming a showcase and patron of the arts and enterprise in many different ways. It has an extraordinary collection of UK sculpture both inside and in the grounds. Highlights include pieces by David Nash, Bernard Meadows, Alexander Macdonald Buchanan, Henry Moore and Keith McCarter. The Anthony Gormley figure staring out from the roof also attracts a lot of interest.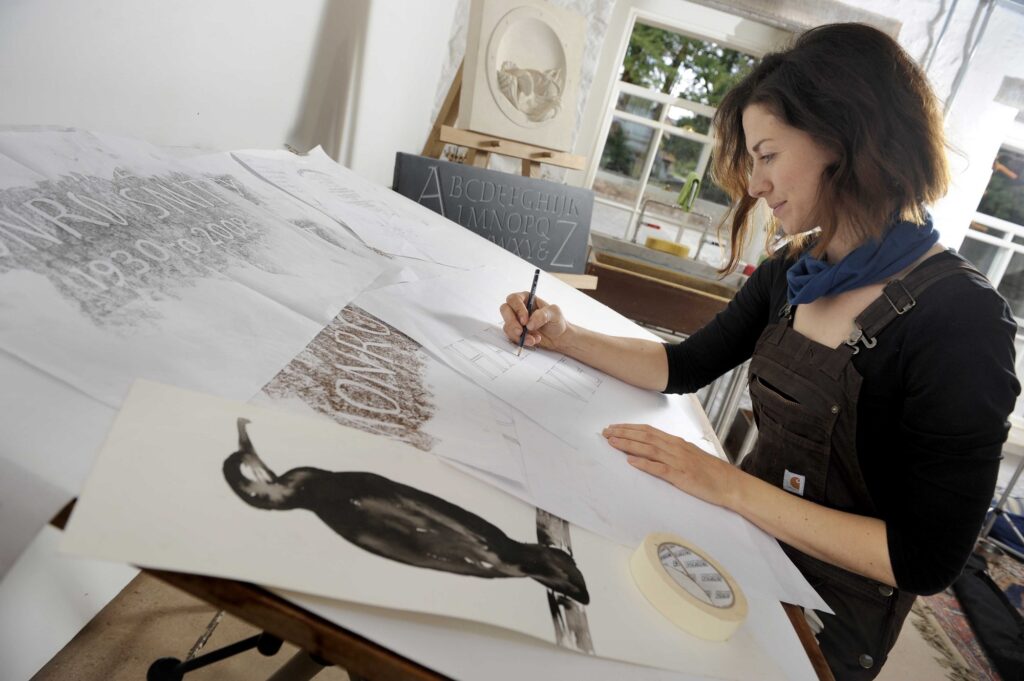 Stone cutter and sculptor, Jo Crossland
But Marchmont is as much about nurturing as collecting sculpture. A series of new pieces have been specially commissioned from Charlie Poulsen, including Dancing Tree and the spectacular Skyboat. The latter is an 11m former fishing boat, the Girl Hannah, which is now suspended four metres from the ground. Planted beneath are five oak trees that over decades and centuries will grow to form a living cradle round the hull.
As you can imagine this is a truly inspiring place to spend time – how could it not be when one enters a room to be faced by a two-metre tall Angel of the North maquette? This aura of excellence is something we want to share. So we are looking forward to reinstating public tours and open days, and introducing open studios (and other) events, when circumstances allow.
The boat, 'Girl Hannah', turned into the sculpture, 'Skyboat'
We are also encouraging businesses to adopt Marchmont as their own home from home – a place to hold events, meetings, planning and training sessions. This is founded on a conviction that there are many forward-looking organisations that will derive abundant benefits from an environment of this kind. It may be especially the case for companies where creativity and imagination are the essentials for success.
We very much believe that business is about more than profit, and that companies have a role in wider society. Marchmont's aim is to help develop supportive relationships between businesses, artists and makers. This could take a multitude of forms, such as sponsoring residencies or traineeships –we are currently providing work experience in the chairmaking workshop.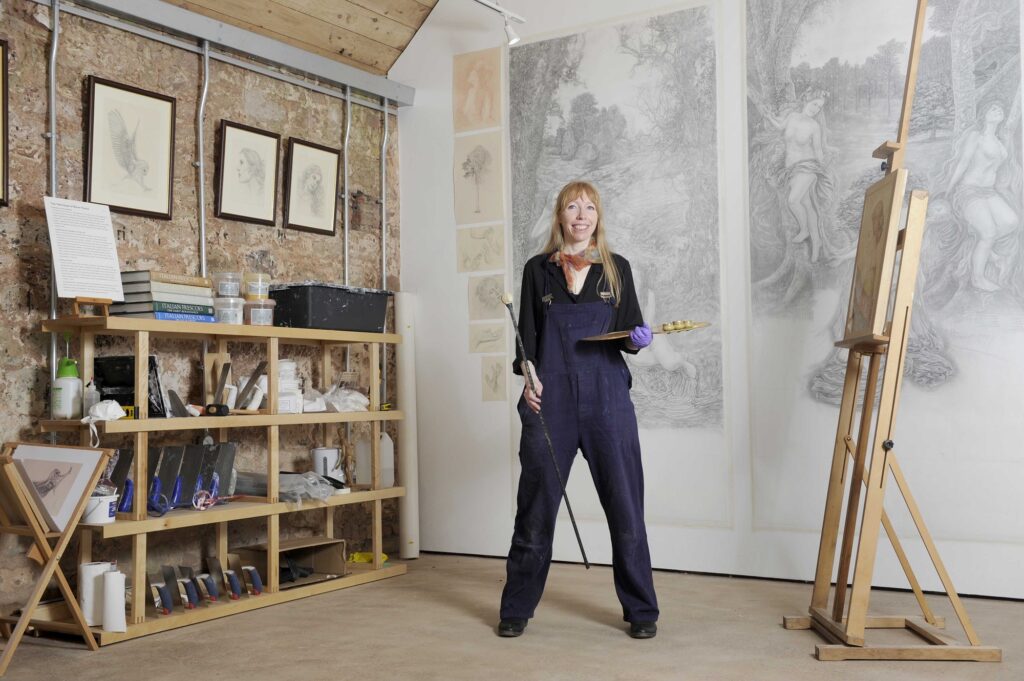 Marchmont's Creative Spaces Launch
Marchmont sees collaboration with creative people as an investment in cultural capital, and something that is a good in itself and a sound basis for growing our business. For example we see quality catering for public and private events as an area where we can be outstanding. So we have brought on board Val Warner, who you may know from his many books and TV programmes, as our chef partner.
And we have just appointed a house organist – a rather unusual role. But someone with the playing and teaching skills of Simon Leach will allow us to make the most of the newly restored 1,961 pipe organ. Inaugurated in 1920 it was quite possibly partly designed by C V Stanford and was played by composers and musicians such as Ralph Vaughan Williams.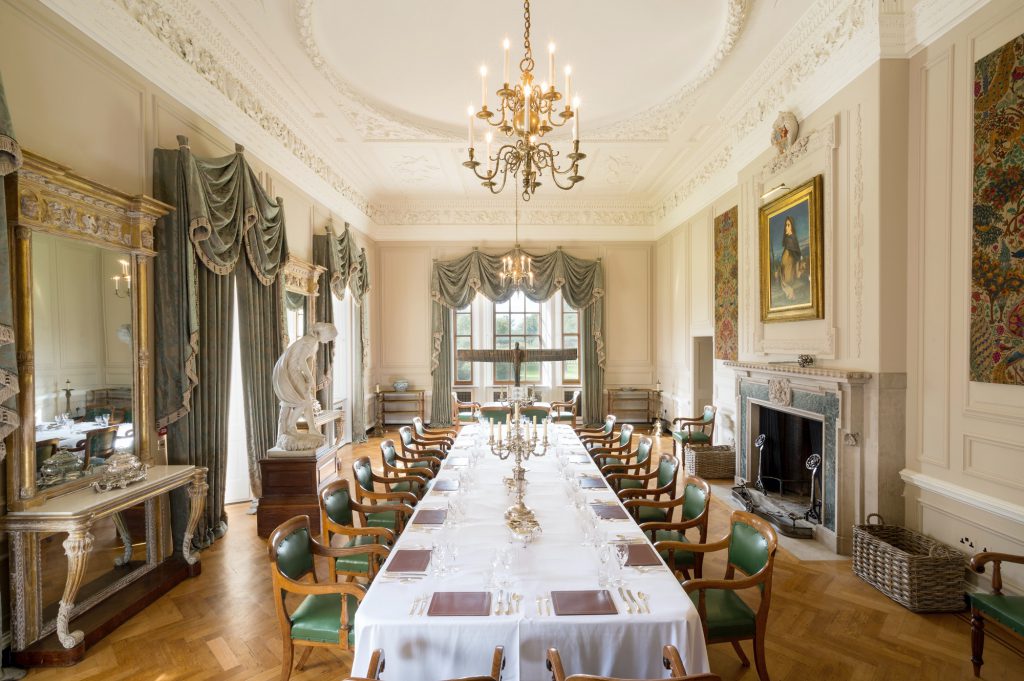 Anthony Gormley sculpture in the Lorimer Dining Room
By offering public recitals, organising events involving other musicians, and making the Music Room and organ available for events we look forward to bringing a fabulous piece of our musical history back into people's lives.
Having spent my career in hospitality and heritage, including at wonderful places like Chawton House (which belonged to Jane Austen's brother, Edward, and is home to a research centre into early women's writing) I am intensely aware that great houses need to offer something distinctive in order to succeed. The Covid crisis only increases the challenge.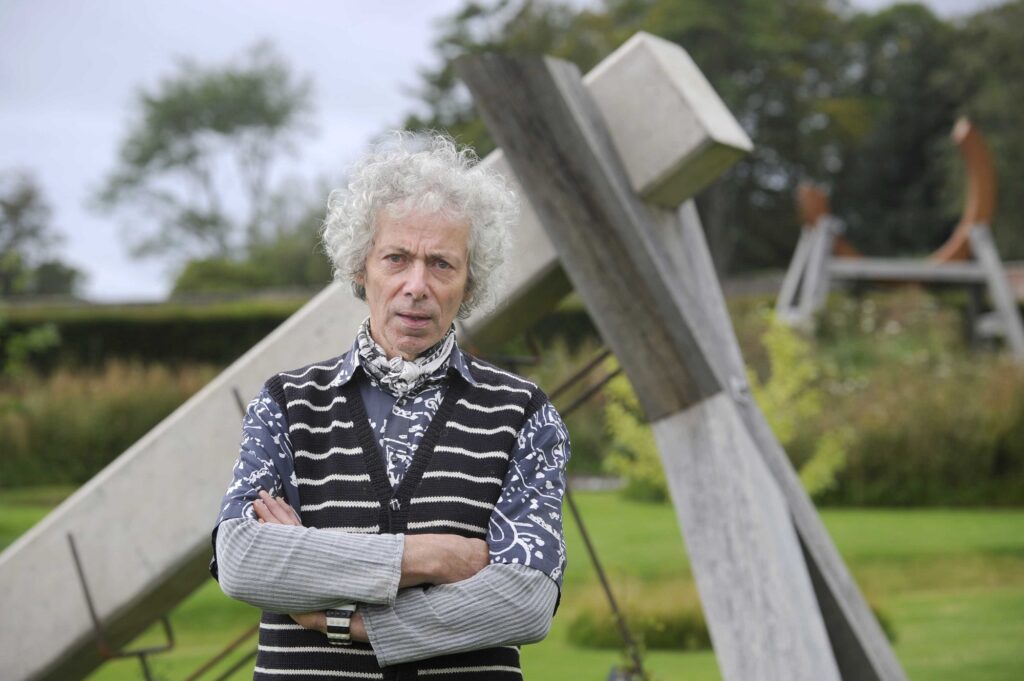 Sculptor, Charlie Poulsen
And by building on its artistic and creative heritage to become a home for 21st-century artists, makers and creators this is something that Marchmont is showing it can achieve.
For more see marchmonthouse.com and TheMarchmontWorkshop.com.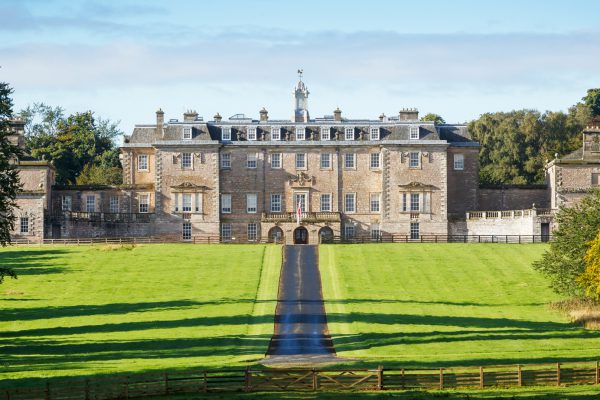 Not free for members
Marchmont Estate, Greenlaw, Berwickshire, TD10 6YL