Young artists 'wow' with stunning entries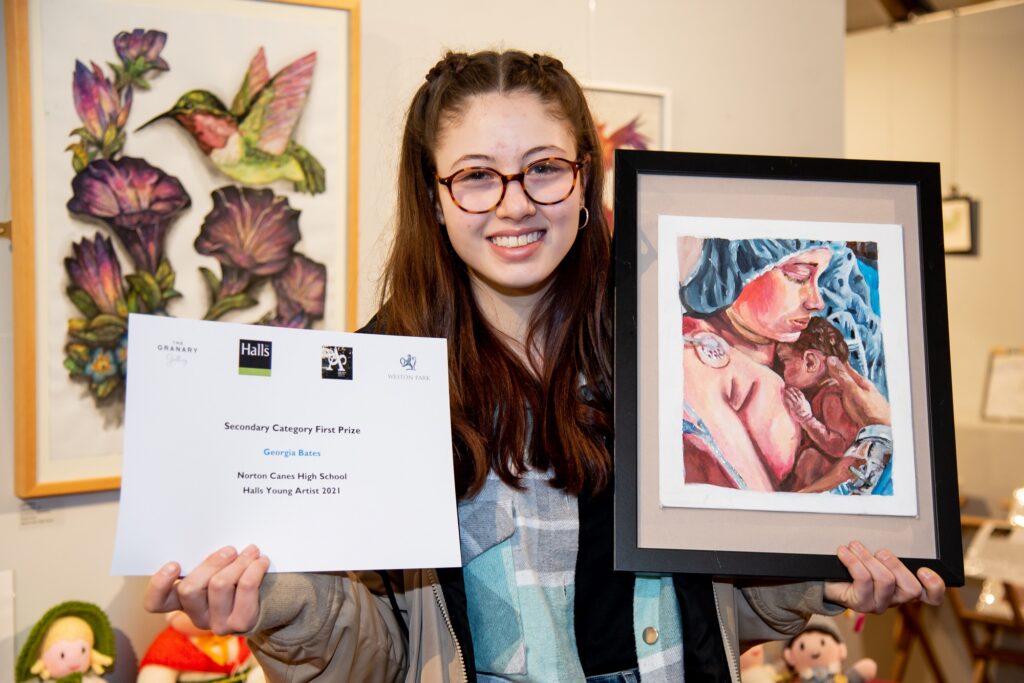 Weston Park, the stately home on the Shropshire \ Staffordshire border hosted its annual Junior Art Open, for schools across Staffordshire and Shropshire, thanks to generous sponsorship from Halls Fine Art and Arts Society Wrekin.
Primary and Secondary schools students have wowed visitors to the Granary Art Gallery with their entries on the theme New Beginnings.
Gareth Williams Curator and Head of Learning at Weston Park said "Encouraging young artists is at the core of what the Weston Park Foundation charity is all about and sponsorship from Halls Fine Art and Arts Society Wrekin makes it all possible. It means that not only are we able to offer local young people an opportunity to show their work in an accredited Arts Council venue but that we can give due credit to the schools and to the pupils. The Granary Art Gallery has an outstanding reputation for quality art exhibitions and this show means that we can champion and encourage young talent to produce what is a lively and thought provoking exhibition which our visitors have come to look forward to."
Judging for the competition was conducted by Halls' Fine Art expert Abigail Molenaar, and renowned wildlife artists Simon Stevenson, representing Arts Society Wrekin. With winning students at primary and secondary levels receive £250 for their school's funds, and are themselves awarded book tokens and a Weston Park family membership.
All Staffordshire and Shropshire schools are now invited to enter for 2022. The theme is "Celebration", in a year where Her Majesty The Queen will be celebrating her Platinum Jubilee and as an organisation we celebrate 35 years of Weston Park Foundation. As we celebrate these milestone anniversaries, we're keen to welcome entries into the Junior Art Open that reflect Celebration. For details on how to enter visit weston-park.com.
Become a Historic Houses member
Explore the nation's heritage from just £65 per year.
Hundreds of the most beautiful historic houses, castles, and gardens across Britain offer our members free entry.
Also: receive a quarterly magazine, enjoy monthly online lectures, get exclusive invitations to buy tickets for behind-the-scenes tours, and take up a range of special offers on holidays, books, and other products you might like.