West Dean College loan painting to exhibition in Seville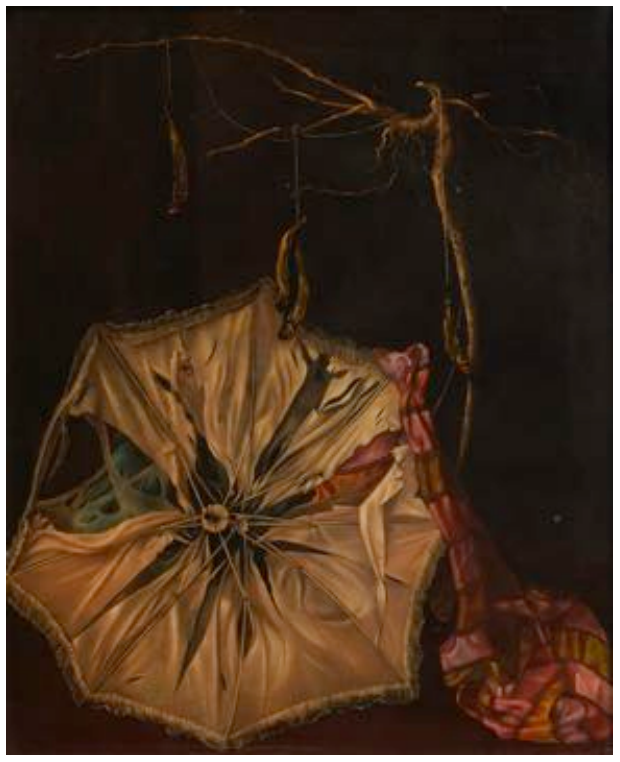 Leonor Fini, L'Ombrelle No.1, 1948 ©ADAGP, Paris and DACS, London 2020
A high-profile loan of from the Collection of West Dean College of Arts and Conservation is currently featuring in an exhibition Objects of Desire.
Surrealism and Design. 1924 – 2020 at CaixaForum Seville which runs from Tuesday, April 27 to Sunday, August 22, 2021.
Surrealist painting L'Ombrelle No. 1 by Argentine-Italian painter Leonor Fini (1907-1996) is included in the exhibition which discusses how the Surrealist movement influenced culture and design in 20th century. The cross-over between Surrealism and everyday objects is described by the exhibition's curator, Mateo Kries, as "one of the most influential dialogues between the world of art and design in the 20th century." Objects of Desire exemplifies how "Surrealism has encouraged designers to examine the reality beneath what is visible and to design objects that offer resistance, undermine routine, and disrupt the quotidian."
The Surrealist Movement was formed by André Breton with the first Surrealist manifesto of 1924 and quickly became an international movement that included writers, artists, and filmmakers. West Dean College founder, Edward James, became an associate of the movement in the mid-1930s and is now known as one for the foremost patrons of surrealist art in Britain. Objects of Desire, a collaboration between the "la Caixa" Foundation and Germany's Vitra Design Museum, showcases 286 works of art and design by many of the artists James patronised, published, and with whom he formed friendship, including Salvador Dalí, Max Ernst, Man Ray, Giorgio de Chirico, Isamu Noguchi, Pedro Friedeberg and Marcel Duchamp.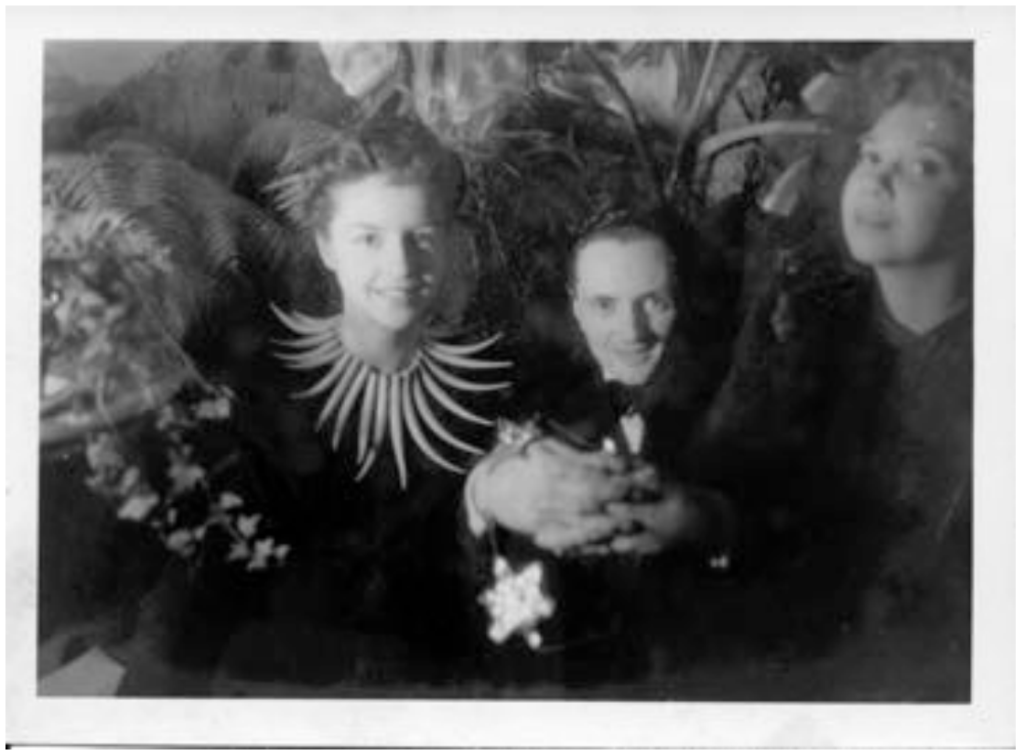 Ruth Ford, Edward James, and Leonor Fini, New York, late 1930s.
Image courtesy of West Dean College of Arts and Conservation.
Looking through the Archives at West Dean, it is known that Edward James was friends with Fini for a long while. In addition new research and knowledge of her life has come to light via some unpublished photographs of Fini in the Archive with one particular photograph of Fini wrapped in an eiderdown, which was taken in James's hotel room at the Waldorf Astoria, New York in the late 1930s. They are part of a collection of photographs that include American Poet Charles Henri Ford and his younger sister, the actress Ruth Ford.
Hugh Morrison, Collections Manager, West Dean College of Arts and Conservation (part of the Edward James Foundation) commented: "We are excited to lend Leonor Fini's oil-on-canvas L'Ombrelle No. 1 for this landmark touring exhibition. Featured alongside key artworks and objects by Salvador Dalí, Corbusier, Isamu Noguchi and other significant artists, it explores the relationship between objects and Surrealism. We are delighted that Leonor Fini's intriguing painting will be appreciated by audiences in Madrid, Seville and Girona (in September)."
He explains: "L'Ombrelle No. 1 was painted by Leonor Fini around 1948. Edward James certainly purchased it, but there is no paperwork in the archive to confirm whether he commissioned it. The face that subtly peeps through tattered the umbrella in this painting is typical of Leonor Fini's dream-like work."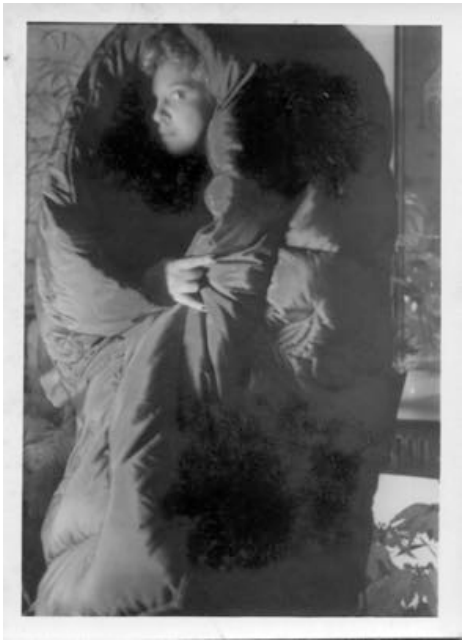 He goes on to say: "It is significant that Edward James recognised and supported women artists such as Leonor Fini and Leonora Carrington at a time when they were being overlooked in favour of male artists. We are therefore delighted to lend Leonor Fini's  L'Ombrelle to this exhibition where her contribution to The Surrealist Movement is more prominently acknowledged."
Spending her early years in Italy, Leonor Fini had no formal artistic training but studied the Italian Masters and was always fascinated by death and the macabre. Known for her eccentricity, cross-dressing and having dinner with her 23 cats, she moved to Paris in 1931 and became friends with Giorgio de Chirico; Max Ernst and Leonora Carrington, however she is most well-known for designing the costumes for the film 8½ by Frederico Fellini in 1963. Her work is now in the Collections of the Metropolitan Museum of Art in New York; the Centre Georges Pompidou in Paris and the Tate Modern.
L'Ombrelle No. 1, which measures Canvas 552 x 642 x 25 mm/ Frame 685 x 590 x 80 mm has featured in the following exhibitions:
A Surreal Life: Edward James 1907-1984, Brighton Museum, 1998
Surrealism: Desire Unbound, Tate Modern, 2001-2002
Angels of Anarchy: Women Artists and Surrealism, Manchester Art Gallery, 2010
West Dean College of Arts and Conservation was founded by Edward James in 1971 with the aim of supporting future generations of artists and makers. Today, the College teaches courses ranging from contemporary Fine Art to Furniture Making. The opportunities for interdisciplinary study maintain the legacy of surrealist design, and together with the College's Collection and Archive, offers unique opportunity for study, from short courses to MFA degrees. West Dean College of Arts and Conservation has an international reputation for excellence and is a full partner of the University of Sussex. For conservation and fine art study opportunities see www.westdean.ac.uk.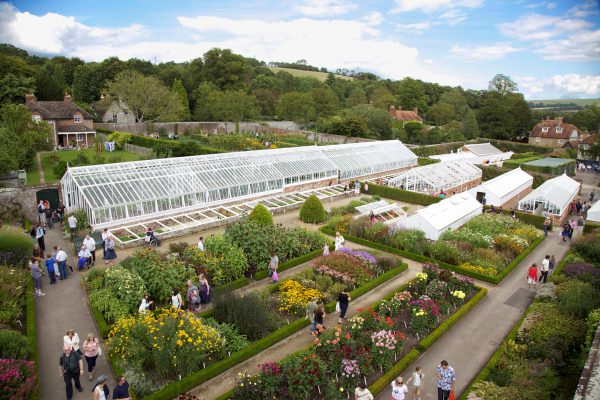 Artist in Residence at West Dean College & Gardens
West Dean College of Arts and Conservation is pleased to announce Viviana Rossi-Caffell as their 2021 Maker-in-Residence and she will visit the college. Known for creating mobiles and stamobiles (standing mobiles) made of metal, Viviana will be exploring the relationship...
Become a Historic Houses member
Explore the nation's heritage from just £65 per year.
Hundreds of the most beautiful historic houses, castles, and gardens across Britain offer our members free entry.
Also: receive a quarterly magazine, enjoy monthly online lectures, get exclusive invitations to buy tickets for behind-the-scenes tours, and take up a range of special offers on holidays, books, and other products you might like.