Van Gogh House announces 150th Anniversary programme
The Living House celebrates 150 years since Van Gogh lived in London with a dynamic group exhibition and events programme in his old boarding house.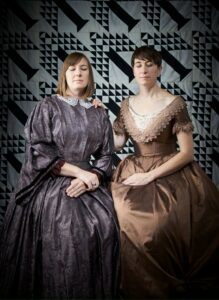 Van Gogh House announces The Living House, a celebration of Van Gogh's life at 87 Hackford Road, the Georgian boarding house in Brixton, South London where he lived from 1873-74.
September 2023 marks 150 years since the first letter that Van Gogh wrote from the property, and 200 years that the house has stood.
"Oh, how I'd like to have you here, old chap, to see my new lodgings, which you'll have heard about. I now have a room, as I've long been wishing, without sloping beams and without blue wallpaper with a green border. It's a very diverting household where I am now, in which they run a school for little boys." -Vincent to Theo van Gogh, 13th September, 1873
The Living House will be an exhibition and series of events exploring the idea that the house is still alive and inhabited. Artists Do Ho Suh, Olivia Plender, Eva Gold and Godai Sahara were invited to respond to the title theme and situate their work amongst the objects and rooms within the house's collection, from newspapers and children's toys to the bathroom, garden, or beds. Seeing the house as an active collaborator, the works will be in conversation with the building to draw out questions around how art and ways of living are entwined.
Visitors who would like a more indepth introduction will be able to take a guided tour of the house, which situates Van Gogh's time in London, examining the city's politics, material culture and fabric through the House.
The exhibition sits alongside an events series from major Van Gogh academics and experts, including Griselda Pollock, Martin Bailey, Iain Sinclair, Kate Bryan, and workshops from The London Drawing Group and Tool/Toy Project.
Livia Wang, Creative Director at Van Gogh House said, "When Van Gogh House opened in 2019, our intention was always that people would have the opportunity to live here; to take a bath, prepare a meal, sleep in the beds and interact with the ghosts. For this exhibition we have asked artists to collaborate with the house and show works that reveal its inner workings. In turn, we invite visitors to interact with the architecture, history and rituals of the building – in a way to briefly experience living with us."
Van Gogh House will kick off celebrations on the 13th September, the date of Van Gogh's first letter, by welcoming Hanno Würzner, Deputy Ambassador of the Kingdom of the Netherlands to the United Kingdom to the house, for a private anniversary celebration that will include talks from previous artists in residence at the house.
Events and exhibition tickets are available to purchase via this link.
The Living House is generously supported by The Wang Family.
Become a Historic Houses member
Explore the nation's heritage from just £65 per year.
Hundreds of the most beautiful historic houses, castles, and gardens across Britain offer our members free entry.
Also: receive a quarterly magazine, enjoy monthly online lectures, get exclusive invitations to buy tickets for behind-the-scenes tours, and take up a range of special offers on holidays, books, and other products you might like.