They do make them like they used to
Most historic houses were built – at least in part – before the industrial era. Their construction by hand was a labour of love, man power and money. Big houses were a statement of power and status above all else, and only the wealthy could afford the talented craftsmen who worked, painstakingly, for months or years on the more intricate details or unusual designs that were so prized. As aspects of construction from brick making to roof laying have benefited from technological advances, many skills that were previously ubiquitous have faded into obscurity. Lime rendering, gilding, stonemasonry and stucco work are just a selection of the kinds of crafts which are fast becoming scarce in the UK today.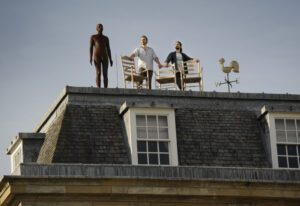 The 2022 Harewood Biennial, Radical Acts: Why Craft Matters, explores in depth why craft is a 'radical act' in the contemporary world, and how it might help us address urgent crises in life and society today. Craft, after all, is an approach. It requires love and patience, time and dedication: it is something meaningful and lasting, rather than something easily bought and disposable. In a world of machines and efficiency, it is quietly remarkable to slow down and take such care over construction and decoration. However, if our unique historic houses, gardens and estates are to retain the features that make them special, this is exactly what they will need. Repairs cannot be rushed, heritage skills cannot be replicated by machines or in factories, people cannot learn techniques overnight.
In a world often driven by efficiency and cost, it can be hard to champion the need for traditional heritage skills.  Specialist knowledge needs to be passed from master to pupil over a period of months or years, but the repair work which needs them is often urgent. Nonetheless, teaching these skills to a new generation is vital if we are to ensure the longevity of our historic buildings and to ensure that traditional building techniques and skills – a part of our cultural heritage – are not lost. The Hamish Ogston Foundation has heritage skills as one of its core funding areas, stating that we cannot hope to conserve our heritage for future generations if we do not keep alive the skills needed to repair and maintain our treasured buildings. The Foundation is co-funding a Heritage Skills Summer School at Wentworth Woodhouse, Yorkshire, with Historic England in order to do just that, through encouraging young people in the local area into heritage skills and providing opportunities to begin learning a centuries-old craft.
However, it is not just the buildings and their owners which benefit from heritage skills. Skilled craftsmen are much in demand across the country, particularly as the scarcity of heritage skills has become more pronounced. The Heritage Skills Summer School is part of a wider 5 year programme run by the Hamish Ogston Foundation and Historic England, which aims to provide trainees from the local area with solid practical experience which will help them into long-term employment in heritage skills, as well as ensuring that vital work is done on Wentworth Woodhouse's historic fabric. With the opportunity to work on specialist technical areas such as leadwork, stucco work and gilding, as well as broader stonemasonry, roofing and carpentry, the Summer Schools promise bright futures for those who participate, as well as helping secure Wentworth Woodhouse's future.
The Prince's Foundation, based at Dumfries House, Ayrshire, follows the same ethos: their heritage craft skills programmes are aimed at those already working in construction, design or arts. Building Crafts and Building Arts encompass everything from decorative plasterwork and stained glass to stonemasonry, thatching, plastering and lime rendering. As part of their studies, participants are required to collaborate on a project to erect a structure in the grounds – past groups have built everything from summer houses to traditional thatched mud buildings used by local school children on the education farm, where they come to learn about food systems and farming. Spending time out and about in the parkland, whether it be building or sketching, gives those learning a chance to chat to the local community, who have free access to the Dumfries House Estate and enjoy seeing and hearing what's going on.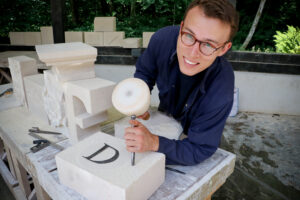 Passing down heritage skills helps many of our historic buildings to thrive, but it also helps support the UK's creative and craft industries, which are an important part of our cultural heritage. Hugo Burge, of Marchmont House, drew on the existing wealth of talent in local craftspeople and artists in the Scottish Borders when restoring Marchmont, and has since invested in creating 'Creative Spaces' residencies at Marchmont, alongside co-founding the Marchmont Workshop. The Creative Spaces, he said, are "a source of creative energy – we have 9 permanent members of our artistic community, but our artist residencies also brought in an additional 24 people / businesses in our first year alone". Hosting bi-annual Open Studios at Marchmont has also helped bring the community further into the project, as they celebrate creativity with food, music and garden sculpture tours, as well as hosting a new makers market – providing further opportunities for small businesses and creatives in the local area. Phase II of Creative Spaces will begin shortly, providing a pottery, print studio and silversmithing workshop in addition to existing facilities.
The Marchmont Workshop is more focused in scope. Now in the capable hands of Richard Platt and Sam Cooper, the workshop has a 14 month wait list on the rush seat chairs which are its speciality, and the pair plan to open up an apprenticeship programme in the near future. Learning the craft of rush seat chair making takes roughly 2 years, full time, but with such demand, it seems that both apprentice and teacher can be safe in the knowledge that there will be a lifetime of work for them both.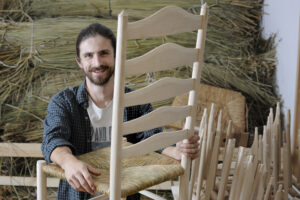 It seems, therefore, that there is hope for a real revival of traditional building and heritage craft skills across the UK. Not only is the inherent value of these skills being recognised by listed building owners and education providers, but there is a growing, and very genuine interest from the wider public in creativity and craft. A combination of demand and enthusiasm means that a new generation is now able to pick up the mantle to ensure that an important part of our cultural heritage can thrive for centuries to come.
Sarah Roller
Policy & Education Officer, Historic Houses