Prepare to moon-bathe at the WE Wonder Noir festival!
A glowing moon, suspended above one of the grandest rooms in Europe, as the Poet Laureate stages a DJ set beneath it…
Expect the unexpected at WE Wonder Noir 2022, Wentworth Woodhouse's after-dark festival of fun, culture and arts. This year's event, running from 6.00-9.00pm March 11 to 16, with a special closing night on March 18, is more wonder-inducing than ever. It will be bringing an inspirational collection of modern art installations, each exploring the theme 'Listen', to the beautiful State Rooms at Rotherham's Grade I listed mansion.
The festival, which is supported by Arts Council England, Without Walls and RELOAD, will also showcase other globally-respected artists, including several who are Yorkshire-based, and expose the people of South Yorkshire to an exciting artistic experience.
The festival's 'star turn' is Museum of The Moon, the latest creation of famed artist Luke Jerram. Arriving at Wentworth on its world tour, it is an exact, to-scale replica of the moon. Measuring seven metres in diameter, each centimetre representing 5km of the moon's surface, the installation features detailed NASA imagery of the lunar surface.
Suspended three metres from the ground and illuminated from beneath to give the effect of moonlight, the glowing orb will slowly rotate against the spectacular backdrop of Wentworth's Marble Saloon.
A soundtrack combining music with interviews and original recordings from the 1969 moon landings, created by BAFTA and Ivor Novello-winning composer Dan Jones, will play in surround-sound.
On March 18, the installation – already viewed by three million people – will be given a unique twist when West Yorkshire-born Poet Laureate Simon Armitage turns DJ for the evening. Attendees will discover the music which has inspired Simon to listen during his life – and are welcome to dance in the 'moonlight'.
"WE Wonder Noir 2022 is bringing ever-more amazing night-time art experiences to Wentworth Woodhouse. We want visitors to look and LISTEN, as magical and marvellous things happen all around them," said Wentworth Woodhouse's CEO, Sarah McLeod.
"Luke Jerram brought Gaia, his vast, spinning Earth, to WE Wonder in 2019. Now visitors can see the moon in its entirety, even the dark side, which is never visible from Earth."
Internationally-renowned Barnsley artist and designer Patrick Murphy has created a new laser artwork connecting the house to its historic landscape, which will be viewable on the opening night.
Patrick will also be unveiling a new neon artwork inspired by George Stubbs' painting of Whistlejacket, the Marquess of Rockingham's legendary racehorse, now in the National Gallery.
Newcastle artist, composer and producer Ed Carter, who has worked for organisations including Arts Council England, Cancer Research UK and Channel 4, will also be showcasing his artwork, The Mute Still Air.
Being shown thanks to Barnsley Museums, it is inspired by Wentworth and Elsecar's shared mining history and the safety improvements introduced at Elsecar by Earl Fitzwilliam in the 1840s – including enormous mechanical fans to prevent the build-up of explosive gases underground.
The fans' constant breeze gave miners a sense of reassurance and the installation, with a striking hexagonal structure at its centre, incorporates movements of air, light, and sound. Tuned copper wind chimes casting moving shadows and there's a score by Grimethorpe Colliery Band.
Pif Paf Theatre will showcase a new immersive experience in the Mansion's chapel, which takes people into the roots of a tree and beyond.
Many other artists will be presenting work including Tala Lee-Turton, Helen Mort, James Lockey and Andy Seward.
Admission to WE Wonder Noir is £5 (free entry for under 16s). Book tickets at: https://bit.ly/3sv2dXG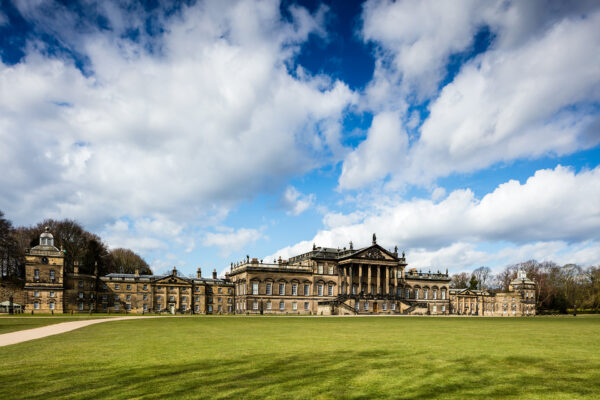 Free for members
Wentworth, South Yorkshire, S62 7TQ
Become a Historic Houses member
Explore the nation's heritage from just £65 per year.
Hundreds of the most beautiful historic houses, castles, and gardens across Britain offer our members free entry.
Also: receive a quarterly magazine, enjoy monthly online lectures, get exclusive invitations to buy tickets for behind-the-scenes tours, and take up a range of special offers on holidays, books, and other products you might like.