Open Air Shakespeare Events at Vann
Vann have another season of open air Shakespeare events in store for 2022!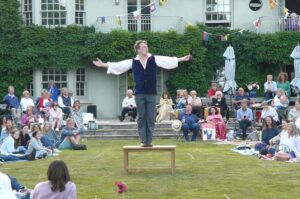 This year, there is a choice between two of Shakespeare's wittiest and most romantic plays – Much Ado About Nothing and Twelfth Night – being performed on consecutive nights in the beautiful Vann gardens.
Across the weekend of 29 – 30 July, Vann are bringing Shakespearean wit and drama to Surrey. Commanding rave reviews after last year's edition, this is an event not to be missed. Historic Houses members (of all ages!) are welcome, as well as the general public.
Tickets start from £15 (children + concessions), with adult tickets priced at £20.
The dates and timings are as follows:
Friday 29 July 6pm: Twelfth Night
Saturday 30 July 1pm: Much Ado About Nothing
Saturday 30 July 6pm: Much Ado About Nothing
Become a Historic Houses member
Explore the nation's heritage from just £59 per year.
Hundreds of the most beautiful historic houses, castles, and gardens across Britain offer our members free entry.
Receive a quarterly magazine exploring the architecture, collections, and family histories of our grandest and oldest homes, and get an insight into what it takes to keep them standing today.
Enjoy monthly online lectures about the houses and their extraordinary history, presented by experts including house owners, curators and guest lecturers.