Hopwood Depree lands major deal for new book
Worldwide publishing rights to Hopwood DePree's memoir Finding Hopwood, about his humorous and heartwarming adventures of moving from Hollywood to northern England to rescue his dilapidated 600-year-old ancestral home, Hopwood Hall Estate, were acquired in a multi-house auction by Executive editor Rachel Kahan of William Morrow, a division of HarperCollins USA, with a six-figure advance.
Finding Hopwood was developed from DePree's acclaimed one-hour live stand-up comedy show that toured in 2019 and culminated at last year's Edinburg Fringe.  DePree also regularly releases comedic videos of his adventures on his YouTube channel.
DePree says:
"This is a huge step forward in saving Hopwood Hall.  I am still in shock about how tracing my ancestry has taken me on this journey of a lifetime.  I am hopeful that telling my story will inspire others to seek out their own ancestry to see where it leads.  I also dearly hope to bring as much awareness as possible to the rescue of the Hopwood Hall Estate enabling it to be there for future generations to enjoy."
Hopwood Hall was lost from the Hopwood family in the early 20th century when the last two male heirs in England were tragically killed in action in WWI. Over the years, the Hall fell into disrepair, inching ever closer to ruin. The English Hopwoods were long gone and generations later, the American branch of the family had lost track that the Hall still existed, other than DePree's grandfather who told 'stories' to him as a young boy about a Hopwood 'Castle' in England long ago. Years later, DePree as an adult with a growing interest in genealogy, stumbled across the Hall while surfing the web in LA and realized this could be the 'mythical' Hopwood Castle. Young DePree had always assumed his grandfather made up the castle story to entertain him, but Hopwood Hall was very real and he discovered, in a frighteningly fragile state in danger of being lost forever. DePree, an American actor and comedian with no carpentry experience or real ties to England beyond the Hall itself, stepped in.  As he puts it: "I couldn't be the Hopwood, after all the centuries of Hopwoods, to let the Hall disappear on my watch."
Kahan, of William Morrow, the editor of many bestsellers, including the #1 New York Times bestseller, Hidden Figures, by Margot Lee Shetterly, which received the Anisfield-Wolf Book Award for Nonfiction in 2017 and was adapted into an Oscar-nominated, #1 at the US box office film by the same name, will edit the book.
Hopwood DePree
It is a real honor to be working with William Morrow/HarperCollins and Rachel Kahan whose track records speak for themselves. As an admirer of their extensive catalogue it is a dream come true to now be working with them as an author.
Painshill, in Surrey, invites families to enjoy an enchanting fairy tale adventure in a landscape full of stunning autumnal colour.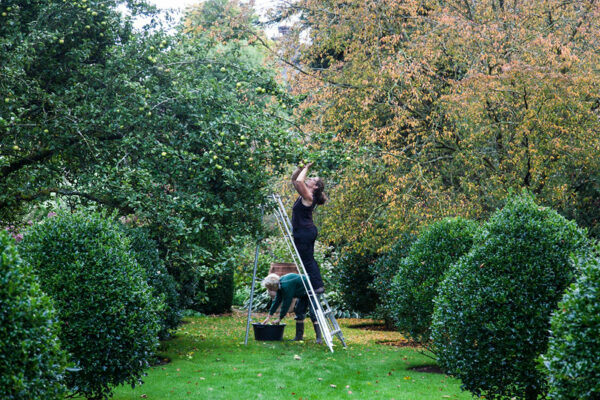 From bees to beer, apples to agriculture, there will be something for everyone at Dalemain's Harvest Festival.
To celebrate the 20th anniversary of opening to the public, Chawton House will be bringing together some of the most precious treasures in the collection for the first time.