Heritage Hero award-winner Steve's skills grew at Wentworth Woodhouse
When Steve Ash signed up as a volunteer at Wentworth Woodhouse, he thought he was only going to learn about gardening.
Five years on, he has learned valuable film-making skills and has just been named as the UK's Digital Heritage Hero of the Year.
Steve's national win is in recognition of his role in Wentworth Woodhouse Preservation Trust's Digital Project, a visionary communications project harnessing video launched initially to keep the Grade I listed house on the public's horizon during the pandemic.
His trophy was one of only two given out in the annual Heritage Heroes Awards. Sponsored by specialist heritage insurer Ecclesiastical and now in their 12th year, they are the Heritage Alliance's celebration of the outstanding contribution Britain's heritage volunteers make to society.
Steve set up the Digital Project and assembled a team of 20 WWPT volunteers. A portion of a pandemic Emergency Grant from the National Lottery Heritage Fund awarded to the Trust paid for training and equipment and the project launched in Autumn 2020. Remarkably, though, Steve had no film-making experience or technical skills – and had originally signed up as a WWPT volunteer in 2017 to learn how to garden after retiring from a high-powered sales and marketing job. His leadership skills and marketing background proved invaluable to the project and alongside his team, Steve mastered script-writing and planning, camerawork, video editing and presenting to camera.
Dozens of films about the Trust's people and places, aims, and achievements have now engaged thousands of supporters, been seen by government ministers and key funders and used on BBC and ITV news. They have proved invaluable for marketing, communications and social media purposes and are generating interest with younger audiences who don't traditionally connect with heritage.
Steve, of Anston, has contributed over 2,000 volunteer hours to the project and has also created virtual tours, events and digital games. He said: "It's a real honour to receive this award. It reflects the hard work and dedication that the whole team has put in. I'm genuinely excited to see where our digital adventure takes us next."
Sarah McLeod, CEO of Wentworth Woodhouse Preservation Trust, said: "We are hugely proud of Steve. This award is so deserved. He shaped and led the Trust's Digital Project from the outset and it has become a vital part of our communications toolkit.
"Like many of our volunteers, Steve brought strong skills and experience from a previous career to us, developed a passion for the house and our work and gave his time in spades – quite literally, because he arrived as a gardening volunteer!
"Along with everyone in the digital team, he threw himself into learning new skills, ensuring the quality and content of the films, virtual tours and events they create."
WWPT's YouTube channel launches this summer, enabling people around the world to watch the Digital Team's content about the house they love.
The Heritage Heroes Awards were presented by Faith Kitchen, Customer Segment Director at Ecclesiastical, at a virtual awards ceremony on Heritage Day.
She commented: "As the leading insurer of Grade I listed buildings in the UK, we're passionate about Britain's heritage. We're proud to sponsor the Heritage Heroes Awards, and this year celebrates two incredibly deserving winners for their outstanding contribution to the heritage sector. Congratulations to Steve for his tireless efforts supporting Wentworth Woodhouse Preservation Trust's Digital Project."
Chair of The Heritage Alliance Pam Alexander OBE added: "This year's Heritage Heroes nominees have once again demonstrated the incredible and forward-looking work done by heritage volunteers. Our 2021 winners have achieved truly impressive and inspirational results for the heritage they care about and show just how exciting, powerful and wide-reaching heritage volunteering can be."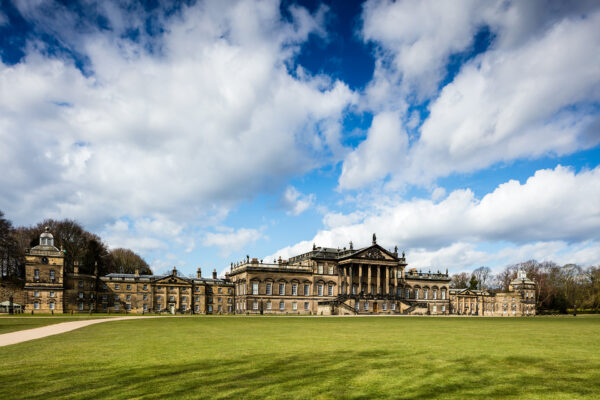 Free for members
Wentworth, South Yorkshire, S62 7TQ
Become a Historic Houses member
Explore the nation's heritage from just £65 per year.
Hundreds of the most beautiful historic houses, castles, and gardens across Britain offer our members free entry.
Also: receive a quarterly magazine, enjoy monthly online lectures, get exclusive invitations to buy tickets for behind-the-scenes tours, and take up a range of special offers on holidays, books, and other products you might like.