Conservation activities at Deene Park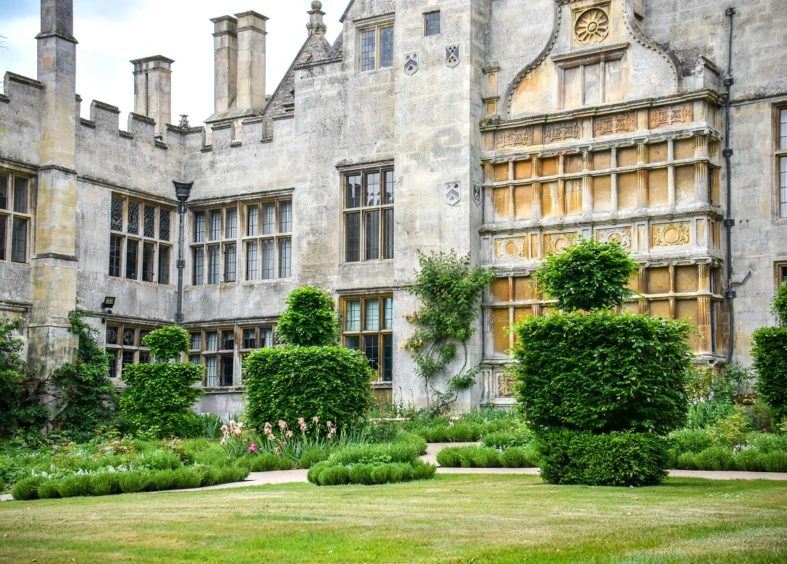 Each year between Autumn and Spring the House and its contents are deep cleaned and last month it was the turn of the exhibition cabinets in the White Hall.
The White Hall has been used to display historical objects for over a century and is also home to Ronald, the 7th Earl of Cardigan's charger who bravely led the Charge of the Light Brigade. Ronald has been watching over the White Hall since his death in 187 and his historical neighbours include nineteenth century dresses, shoes, family memorabilia, letters, guns, and military uniforms.
Due to the delicate nature of the objects on display we enlisted the help of our friends from Virtu Conservation Housekeeping who specialise in cleaning services for decorative and historic interiors and objects. Sasha and Jasmin spent one week with us to ensure that each cabinet and every object was carefully removed, inspected, cleaned, and returned to its original location.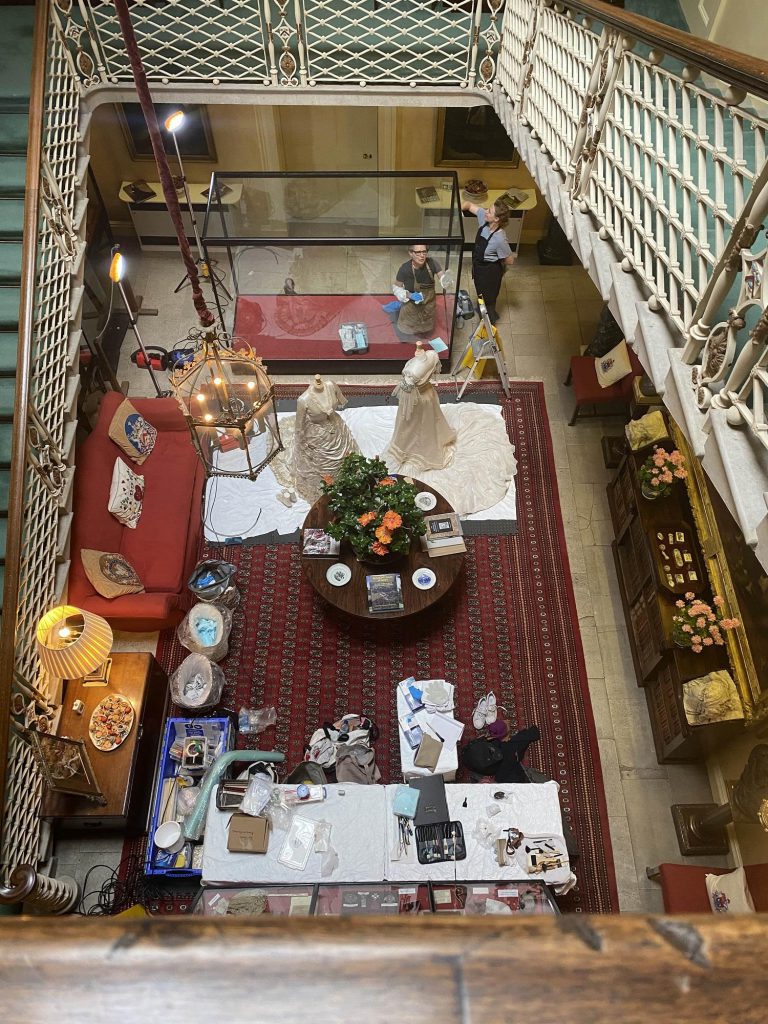 What is Conservation Housekeeping?
Conservation housekeeping is a term used in the museum and conservation industry which predominately refers to 'conservation cleaning' (specialist non-invasive cleaning techniques used for the professional care of collections and interiors), but also refers to conservation methods which are concerned with protection and the proper care of objects and interiors. Good conservation housekeeping (or 'preventative conservation' as it is also known) is considered essential for the protection and preservation of valuable or historic objects and interiors.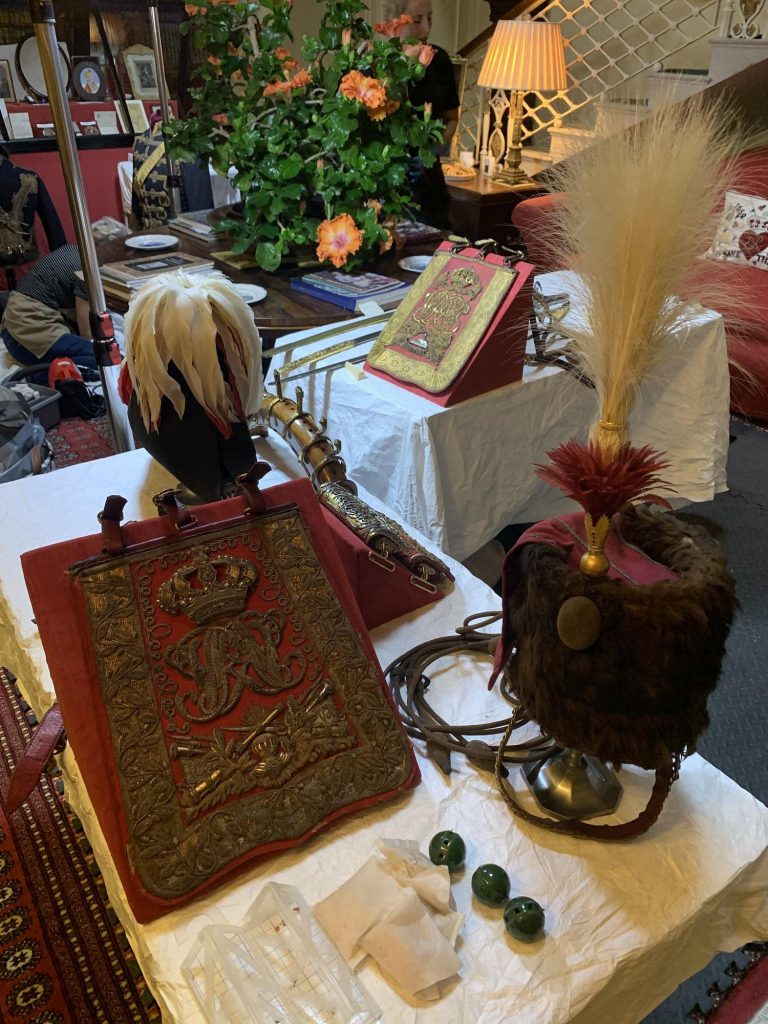 Cleaning methods
Three key methods of cleaning were used by Sasha and Jasmin to care for our historical objects.
DRY BRUSH VACUUM
Dry brush vacuuming involves gently brushing the object to remove settled dust and dirt. During the brushing process the loosened dust and dirt is collected using a non-direct low suction vacuum machine.
DAMP CLEAN
A damp clean is carried out using de-ionised water and micro fibre cloths. De-ionised water has been treated to remove corrosive impurities so is considered as a very pure form of water as it contains no ions. This also means that DI water does not come with any electrical charge.
SMOKE SPONGE
These dry-cleaning sponges effectively remove dirt, dust, soot and smoke damage from paper, painted metal and wood surfaces, fabrics, and a variety of other surfaces. Smoke sponges can be used on fabrics where solvent or wet cleaning is not possible and conservators use them for dry cleaning of books and paper, particularly for dust and dry mould.
Dress Cabinet
We have two dresses on display here at Deene Park, a ball dress of Lady Cardigan made by Worth of Paris in about 1890 when she was nearly 70, and the wedding dress and shoes of Lady Robert Brudenell-Bruce of 1878.
Safely removing the dresses and shoes from the cabinet was first on the agenda; however, this was particularly tricky due to very limited space inside the cabinet and only one access point at the far end. Once freed, the dresses were kept on the mannequins and inspected to identify damage, pest activity and previous conservation efforts.
Both the ball gown and the wedding dress have been previously conserved and are made with a combination of lace, netting and satin which has become very delicate over time so minimal handling and a gentle dry brush clean carried out to remove settled dirt and dust.
Only a small amount of dust was found on the dresses and there was no evidence of active pests, so the dress cabinet is certainly doing its job in protecting its delicate tenants.
Memorabilia Cabinet
The memorabilia cabinet contains a variety objects relating to the 7th Earl of Cardigan and the Crimean war, including letters, photographs, medals, and Lady Cardigan's parasol. Sasha and Jasmin carefully recorded the location of each object and then transferred them onto covered tables in the middle of the room so each object could be inspected and cleaned.
All the objects were gently brush vacuumed whilst the glass frames and ceramics were also damp cleaned. Extra care was taken with Lady Cardigan's parasol as the fabric has deteriorated over time.
There was dust inside the cabinet and evidence of pests and insects so after investigating, Jasmin and Sasha were able to identify a gap between the table and the cabinet, something we are now able to rectify to prevent these tiny creatures from creating a home inside.
Military Uniform Cabinet
The uniforms we have on display were worn by the 7th Earl of Cardigan. After his death, Lady Cardigan decided to wear his uniform trousers when cycling around the village and wore them all out! Therefore, we only have the top half of the uniforms on display alongside military items.
After removing the uniforms from the cabinet Jasmin and Sasha thoroughly checked the condition of each item and discovered ingrained dust, pest holes and previous repair attempts. The uniform fabrics are very worn in places and extra care had to be taken with the delicate fur on the military hat. A thorough dry brush vacuum was carried out on all uniforms and military items to remove the settled dust and the results were very impressive as you can see below in the before and after photo.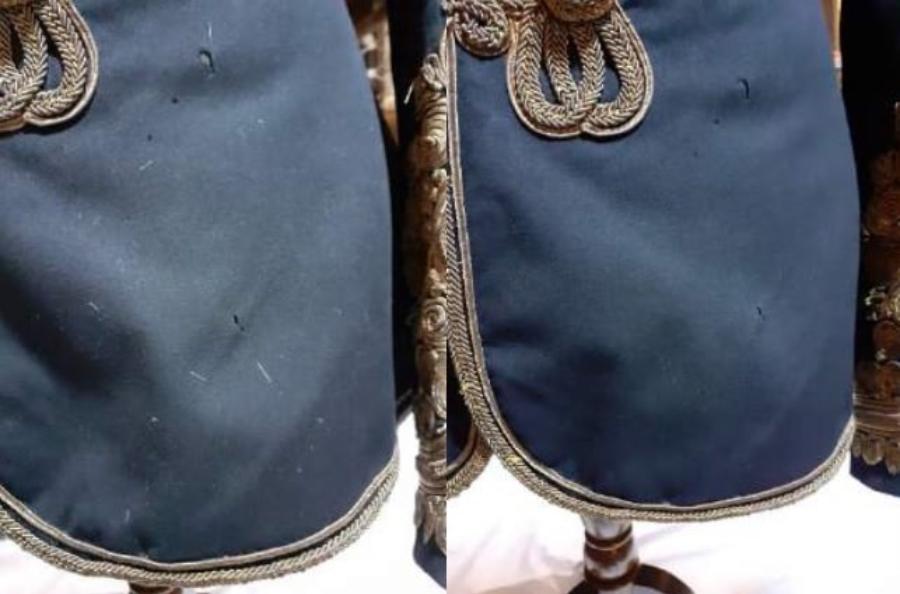 With the aid of a filter Sasha and Jasmin were able to examine the dust, fibres and pests collected whilst vacuuming. Evidence was then bagged and photographed, and the details shared with Deene Park staff who were very keen to see these tiny pests up close.
Prior to returning the objects to their original homes the cabinets were given some much-needed attention, including a damp clean of the exterior, vacuum cleaning of the cabinet floors and smoke sponges to remove any remaining dirt from the display fabric. Fresh pest traps and humidity sensors were also placed in the cabinets to ensure that staff can monitor the environment without disturbing the objects inside.
After spending a full week of inspecting and cleaning our White Hall exhibition cabinets we are overjoyed with the results! Sasha and Jasmin have ensured that all three cabinets and the contents inside are positively gleaming and ready to welcome visitors back to Deene Park in 2021.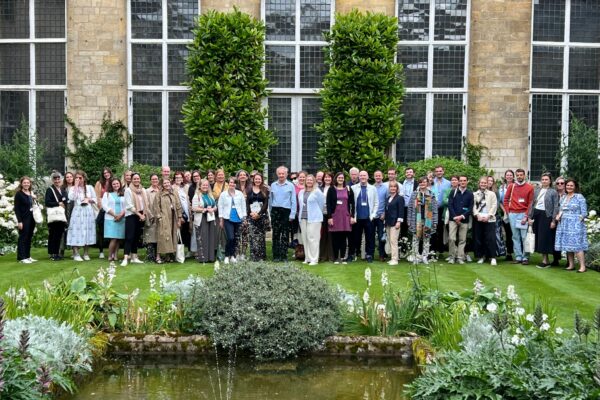 Kate Walter, curator at Arundells, was 2023's Historic Houses Attingham Scholar. She shared her reflections on this year's Attingham Summer School below.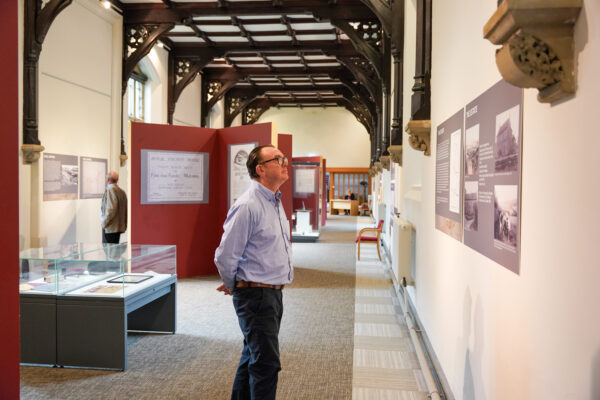 Visitors to Ushaw Historic House, Chapels and Gardens will be delighted with a stunning nostalgic exhibition this Autumn.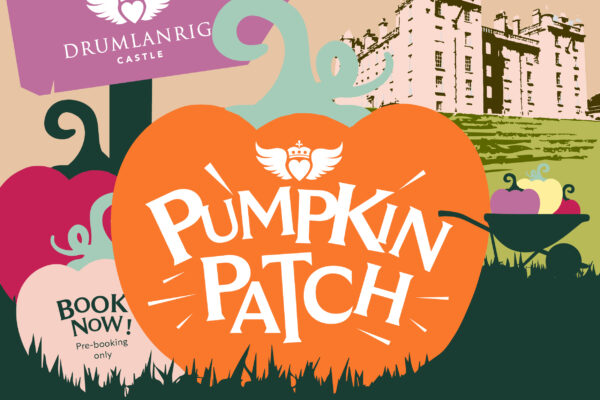 Drumlanrig Castle have launched a brand new pumpkin patch at the Gardens and Adventure Playground, running from 14th to 29th October.