Birdsall adapts to 2020 challenges
From wedding venue to film location, the stately home has pivoted in response to Covid-19.
Like every wedding venue across the UK, Birdsall House, based in Malton, North Yorkshire was ready for a quiet summer after the Covid-19 pandemic caused a national lockdown in March. However, the doors of one of the country's most remarkable stately homes have not only been kept open but have seen Elizabeth Hurley, John Cleese, Kelsey Grammar, Jeremy Piven, Talulah Riley, Nathalie Cox, Kris Marshall and Caroline Quentin walk through them, after production company MSR Media chose it as the location for three films. The first of which will be available to watch on Amazon Prime TV from early November.
My Dad's Christmas Date was partly filmed at Birdsall earlier in the year whilst Father Christmas is Back and Miss Willoughby have been filmed at the house under strict Covid-19 regulations, with a large cast and crew forming isolation bubbles for up to five weeks.
Sitting in its own private valley on the edge of the Wolds, Birdsall House was built in 1540 and is home to the Willoughby family, though the family are not connected to the title character in one of the films. The Honourable James and Lady Cara Willoughby and their three children opened their home for events in 2018 to ensure the longevity of the spectacular building and to allow more people to make use of the historic rooms and grounds, which includes a Church.
Speaking to Variety magazine, Kelsey Grammar said:
"This has been a terrific experience. Although COVID presented a new set of challenges, we were able to work very effectively through new standards of film production. I would urge my family of actors at SAG-AFTRA to take a page out of the British playbook; we can responsibly get back to work.
Said Actor, Caroline Quentin
"Birdsall manages to combine complete luxury and elegance with the warmth and charm of a real family home. What a lovely family, what a beautiful home." Earlier this month, Quentin also announced to viewers of BBC One's The One Show, from Birdsall House, that she would be taking part in this year's Strictly Come Dancing.
To find out about holding events or using Birdsall House as a film or photography shoot location email events@birdsallhouse.com. To watch the film trailers visit MSR Media, linked below.
Lady Cara Willoughby
We feel extremely lucky to have had the opportunity to host so much filming here after having a majority of our weddings postponed this year. If you'd have told me after the lockdown announcement in March that we would instead be welcoming the likes of John Cleese to Birdsall I wouldn't have believed you and it's been an absolute pleasure to do so. One of the films, Miss Willoughby, was the first to start shooting in the UK under the new guidelines and was also the first to wrap. The films have been produced by MSR Media and Bubwith based Highfield Grange Studios.
Painshill, in Surrey, invites families to enjoy an enchanting fairy tale adventure in a landscape full of stunning autumnal colour.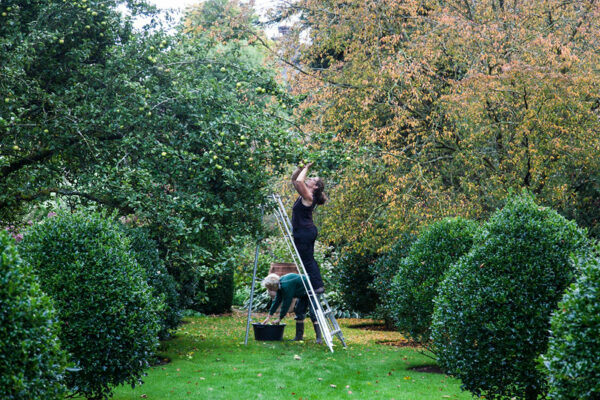 From bees to beer, apples to agriculture, there will be something for everyone at Dalemain's Harvest Festival.
To celebrate the 20th anniversary of opening to the public, Chawton House will be bringing together some of the most precious treasures in the collection for the first time.