Kirstead Hall
Norfolk brick manor house in the shape of an E, after Elizabeth I, Queen of England.
Brooke, Norwich, Norfolk, NR15 1ER
Get Directions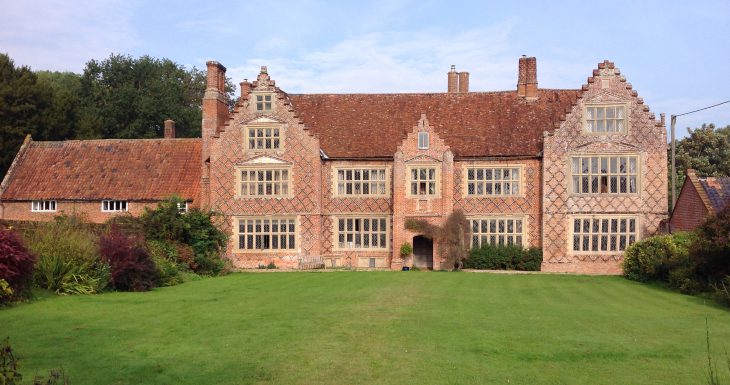 Accessibility
Guide dogs welcome
Accessible parking
A fine Grade I-listed Elizabethan manor house circa 1560 of E-shaped plan with stepped Flemish gable ends, brickwork with attractive blue diaper decoration and pin-tiled roof, standing in four acres. The front elevation is exceptionally well proportioned and the east end gable has settled at an attractive angle.
The setting is beautiful and tranquil. Guests often linger in the colourful garden created entirely by Judy Murphy. The gardens are partly walled with an important Grade II* octagonal dovecote in the grounds.
Next to the house stand two imposing Grade I-listed Tudor barns. The east end room was used by Edward Seago (1910-74) as his first studio and the honeysuckle over the porch was there in his time.
Tours that are scheduled will be listed below. If none are scheduled yet, please check back later, or find other tours you might enjoy on our tours listing page here.
Accessibility
Guide dogs welcome
Accessible parking
The dairy wing is used by the owners as an antique furniture restoration business and tours include a visit to see work in progress. A small selection of antique and decorative items are available for purchase.
Anti-witchcraft symbols and 18th-century graffiti can be seen at the hall. As can letters from Agatha Christie, a letter with a sketch by Field Marshall Alexander, samples of miniature honeymoon underwear and old photo albums illustrating early-20th century social history and fashion.
Until recently the owner's daughter and family lived on the top floor and they often stay here. Essentially a family home exuding warmth and hospitality, and used for hosting parish and other events for the local community.
The tour includes the ground floor of the house, the dovecote and antique furniture restoration studio. Visitors will have the freedom of the gardens and grounds and can visit the Church of St. Margaret, Kirstead (located opposite the house) as an independent option.
TOUR DURATION
2½ hours
TOUR PRICE
£18.00 per person
REFRESHMENTS
Tea/coffee/ soft drinks. Fruited scones, cream and jam. Selection of cakes.
ACCESS NOTES
Tour is on ground floor only
SPECIAL RESTRICTIONS
No photography inside the property
VISITORS' VIEWS
"Thank you so much, it was a very interesting visit indeed – both the house and the workshop – all topped off with a fabulous cream tea!"
"Our hosts were so warm and welcoming. They shared their passion for their property with us and we were given a wealth of information on the history and memorabilia of the house, restoration workshop and dovecote. We were encouraged to make ourselves at home, enjoyed excellent tea/coffee, cakes and scones, and we felt like part of their family. Recommendation marks out of 10 – a well deserved 20!!"