Craigietocher Tower
A reproduction Scottish fortified tower house, which took 25 years to complete and is as close to a 16th century tower house as modern day building regulations would allow.
Turriff, Aberdeenshire
Get Directions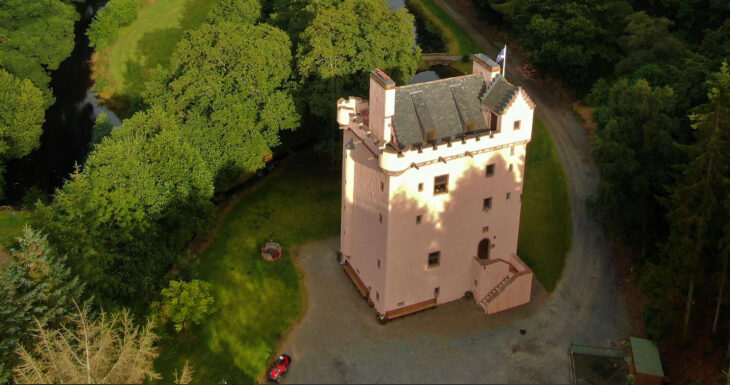 Features
Accessible parking

Meet the owner

Mostly wheelchair accessible

Pet friendly
This reproduction 16th century Scottish fortified tower house took 25 years to complete from 1995 to 2020. Learn about the history of the build and the many challenges of completing this ambitious project from owner Phill Plevell.
The tower has five floors, with a notable Great Hall and Laird's Room, and includes a prison pit and secret passage/priest hole. A spiral stair leads to the tower top with open rounds and wall walk area. Outside there is an outbuilding in the style of a Scottish Doocot (dove house) along with a log store.
Entrance to the Tower is at first floor level via a traditional Scottish yet into the Great Hall with a minstrel gallery. On the second floor there is a trapdoor entrance to a secret passage which leads from the master bedroom to the minstrel gallery. Also on the second floor is the Laird's Room with a traditional painted ceiling which also houses a small library of antiquarian books. On the third floor there are two guest rooms, one with a four-poster bed. The fourth floor is the top of the spiral stair which finishes in a cap house and doorway out to open rounds and wall walk.
Set in two acres of land with two large pools and a small burn, the tour includes the external area and freedom to enjoy the pool area with its wildlife.
Refreshments will be taken in the dining room on the ground floor. All tours are guided  throughout by the owner.
We were welcomed to this stunning reproduction Tower House in rural Aberdeenshire by the hosts, Phill & Meryl, who guided us around their magnificent 'realised dream' of a home with a such a friendly, welcoming and informative manner – it really felt as if we were part of a family visit. This labour of love has been transformed into an authentic and hugely impressive family home with all the character and design features of a Fortified Tower – what a superb job they've done! We'd thoroughly recommend this as a place to visit and are grateful to the owners for allowing us to share their tremendous building journey (and the delicious afternoon tea, of course!).
Highly recommended.