Château de Missery
Burgundian chateau surrounded by four medieval towers, broad moats and by extensive and well-maintained gardens.
Saulieu, Burgundy
Get Directions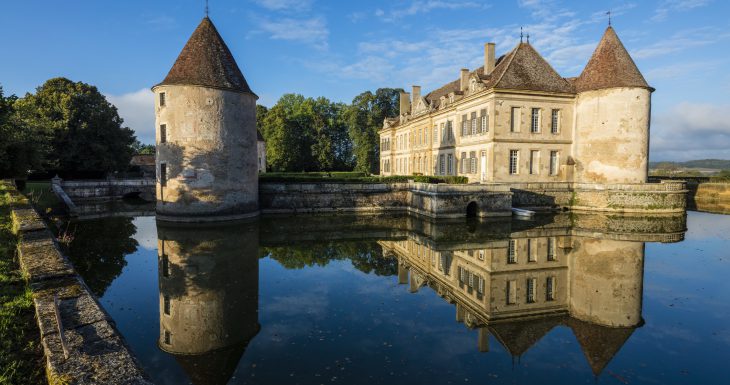 Accessibility
Accessible toilets
Accessible parking
Accommodation at Chateau de Missery
The Château is available for exclusive rentals, from May to October. It can sleep 14 comfortably, with scope to add a few more children, or adults willing to share.
It has 9 bedrooms and 6 bathrooms, a large entrance hall with a grand piano and sweeping staircase, a grand dining room, a listed, panelled salon with French doors leading onto a rear terrace, a sun-filled breakfast room, which can also double up as small, intimate dining room, and two libraries. All rooms are light and spacious, cool and quiet, and dark at night, with the most fantastic views over the property and the fields and hills beyond. We often hear the refrain: "I haven't slept that well in years!".
At the centre of the walled kitchen garden, there is an 18th Century stone 'Bassin', of 11m in diameter and 1 metre in depth – perfect to splash about in, or create whirlpools in, on a hot summer's day. There is a ping-pong tower, and croquet lawn, a rowing boat; inside fun and games include: cards, Scrabble, Monopoly, Twister, TV (with international channels) and an extensive DVD collection, to complement the time-consuming fine dining and wining that the region is loved for! For those who cannot tear themselves away from the rest of the world, there is WIFI throughout.. though we bet you'll forget all about it by the end of your stay!
You will be well looked after too: two Château Hosts will show you to your rooms and around the property on arrival: they will be on hand during the week to assist with basic concierge needs, such as booking tables, taxis, translations, directions, etc. They will also lay out and clear up a full continental breakfast (think fresh croissants and baguettes, fruit, hams & cheeses…), undertake 2-3 hours of basic housekeeping, including freshening up bedrooms and bathrooms, daily; and turning down the beds in the evenings.
Our cheerful gardener will be present part of the time, and will deliver fruit and vegetables to the kitchen table for guests, or the chef, to prepare fabulously fresh, seasonal cuisine, depending on what's-a-growing!
All the above is offered as part of a self-catering holiday, although to make the very best of your stay at the château and in Burgundy, of your time with friends and family, we thoroughly recommend the
Chef Packages, developed in collaboration with talented local chefs – some Michelin-star trained. Depending on which package you choose, your stay will include full or half board, an enhanced, bespoke breakfast, as well as healthy nibbles and indulgent home-made patisseries, waters, soft drinks and some house wines.
If you would like to enquire about availability or to ask any questions related to rentals, please get in touch: we would be delighted to hear from you.
The château is also available for a limited number of weddings a year, and for film or photography shoots throughout the year. Please get in touch, if of interest!
Accessibility
Accessible toilets
Accessible parking