Bemersyde House & Grounds
Gardens by Field Marshal Earl Haig around an early medieval defensive tower with later additions.
Melrose, Roxburghshire, TD6 9DP
Get Directions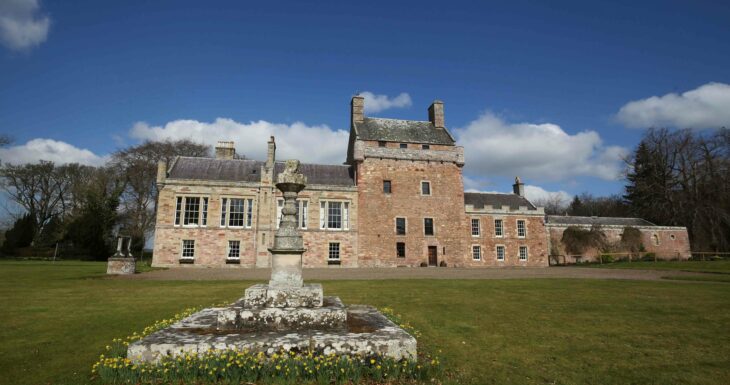 The existing house reflects the lifestyle of its owners through the centuries.
The old Border Peel Tower most probably built on the site of an earlier dwelling was completed in 1535 during the reign of James V as the result of an Act of Parliament requiring defensive towers to be built along the English Army.
It was intended as a watchtower and signal fires would be built to warn of approaching danger from reivers or the English Army.
Built from stone from the quarry on Bemersyde, the original tower had four storeys and a vaulted roof.
The walls are up to three metres thick and the stone spiral staircase is built within the thickness of the walls.  Stones from the ruined Dryburgh Abbey are incorporated.
Torched in 1547 by the English Army under the Earl of Hertford during the Reformation it was 1580 before it was rebuilt.  The politics of the time perhaps explain the delay as the intervening 30 years had been tumultuous in Scotland and James V had died leaving infant Mary as Queen. She, in turn, had been deposed in favour of her infant son James VI and by 1580 was imprisoned in England.
Four generations after the tower was rebuilt, Anthony Haig made alterations to make the tower more comfortable.  Fireplaces and glass windows were installed.  A slate roof was added and there were internal alterations. The stables and byres were moved from the south side of the tower and rebuilt to the north.
He was imprisoned in the Tolbooth on account of being a Quaker and released in 1667. Anthony devoted himself to the improvement of the estate.
The romance of Bemersyde greatly appealed to the writer, Sir Walter Scott. His son-in-law, Lockhart, described Bemersyde in 1831 as "ancient residence of the most ancient family now subsisting on Tweedside".
Russell, in his history of the Haigs of Bemersyde in 1881 wrote,
"But its antiquity was not the sole claim which Bemersyde had upon the affections and veneration of Sir Walter Scott. There was that attaching to the place which could not fail, in one so constituted, not only awaken his interest but to stir his imagination. Round the family and their old ancestral home, the fanciful superstitions of the district had thrown a veil of mingled mystery and wonder, and not a peasant or a peasant's child but could repeat the prophetic utterance of Thomas the Rhymer:
"Tyde what may betide, Haig shall be Haig of Bemersyde"